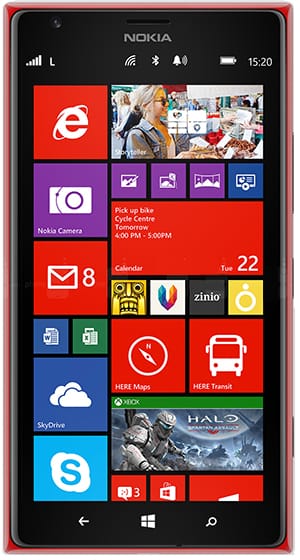 The Lumia 1520 is Nokia's latest phone release. Nokia offers many phone options in the Lumia line. With all being named by a number, it can be difficult to keep them all straight.
WinBeta offers a great Nokia Lumia phone guide that explains each phone, where to buy them and a feature matchup. According to a poll by the same site, the most popular Lumia devices, likely due to time on market, are the 500 family (520, 521, 525) with a close second to the Lumia 920 and 925. The Nokia Lumia 1020 is rated as the best camera phone in today's market with a 41mp camera and option to shoot DNG raw images.
Nokia Lumia 1520
Let's get into the specifics of the 1520. This phone comes after "Update 3" to the Microsoft Windows Phone 8 operation system (WP8), which added support for 1080p displays and large screens. The 1520 features a large 6-inch screen at 1080×1920 pixels for about a 367ppi. The phone comes with 16 or 32 GB internal storage and 2 GB RAM. It does also have a microSD card slot for up to 64 GB of expandable storage.
The camera is impressive at 20 MP with dual capture, dual-LED flash, panorama and optical image stabilization. There are 4 microphones just above the camera for directional stereo recordings, meaning it is intended to capture sound from what's in front of the camera and reject noises coming from other directions. The phone comes in black, yellow or red and has the option for a wireless charging cover.
Lumia 1520 Phone Holders
We have three Lumia 1520 phone holders that are currently on pre-order. You can choose between a tilt swivel holder, charging holder with cigarette lighter plug or charging holder for hard wired installation.