The Sony Xperia Go was announced this past May and released in July.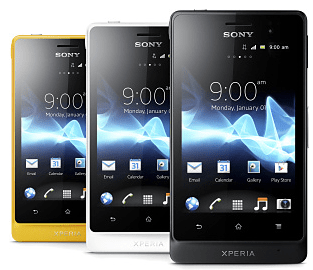 Sony Xperia Go Phone Specs
The Sony Xperia Go has a 3.5 inch, 320 x 480 pixel screen made of scratch-resistant glass. It runs on the Android Gingerbread operating system (v2.3). Some of its other features include a 5 megapixel camera with geo-tagging, 8 GB of internal memory and a 32 GB microSD card. The phone comes in black, white or yellow. Probably the most notable feature of the Sony Xperia Go is that it's water and dustproof. So feel free to ride through the dessert with it or maybe even bring it with you in the bathtub.
ProClip Holders for Sony Xperia Go
We have three holders available for the Sony Xperia Go. The first is a standard holder, custom fit to the phone, with tilt swivel. The holder tilts and angles 20 degrees. We also have two charging holders, both with tilt swivel, that rapid and trickle charge your Xperia Go. The cigarette lighter adapter charging holder keeps your battery charged at all times.
We also have a straight power cord charging holder for fixed installation. Unlike the cigarette adapter holder, this charging cable permanently attaches to the holder with a 2 amp charger. This holder is popular because it keeps your cords tucked away, leaving your car neat and tidy. As always, these holders will attach perfectly to your vehicle mount. Our products are part of a two-part system of device holder and vehicle mount.