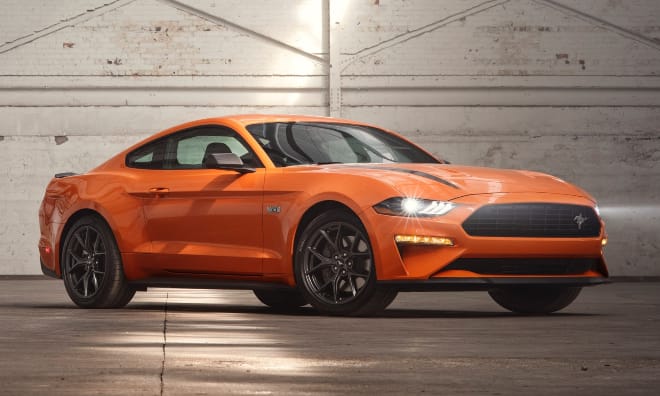 Ford is taking the high-performance RS engine from its Focus and putting it in the 2020 Mustang. This new setup promises more power than before, and with half the cylinders of previous models. The new EcoBoost package is an entry-level sports performance car that takes advantage of technology to get the most possible power out of a four-cylinder engine.
Turbo-charged four-cylinder to new heights
The engine comes from the Focus RS and is made in Spain. This one has a stronger cylinder head and head gasket. There is a larger radiator and some tweaks to the pipes to help with cooling. It has a redesigned turbocharger that promises 330 horses and 350 foot-pounds of torque out of the four-cylinder engine. Ford says it will get to 60 in 4.5 seconds, and it has a top-speed rated at 155 MPH, and all of that from a 2.3-liter power plant.
The engine can be matched with a 10-speed automatic or six-speed manual transmission. This performance package is available for the coupe and the convertible. The package also increases the top speed by 10 MPH over its regular performance package and 34 percent more power than the standard Mustang EcoBoost.
More than just a pretty engine
Some other parts of the performance package include a 3.55 ratio limited-slip rear differential and tuning for the suspension to add even more stability control. It also has high-performance brakes to slow it down when needed. This Mustang will have 265-mm wide tires, magnetic suspension, stiff springs, and a thicker roll bar. There is also a new active exhaust system, which hopefully is an improvement over previous EcoBoost models, which were not received well.
Outside the changes are subtle. There is a lip spoiler, a dark metallic gray grill, with the pony badge. Stripes are added to the hood. It has 19-inch wheels designed to go with this package and a rear spoiler in the same color as the grille and stripes. There are four colors available: Grabber Lime, Silver, Red hot Metallic Tinted Red clear-coat, and twister Orange.
With this newly found power, you will need a phone mount sturdy enough for whatever you throw at it. ProClip mounts are custom-made for your exact make, model and year of car. Quit fumbling around for your phone and get a ProClip.