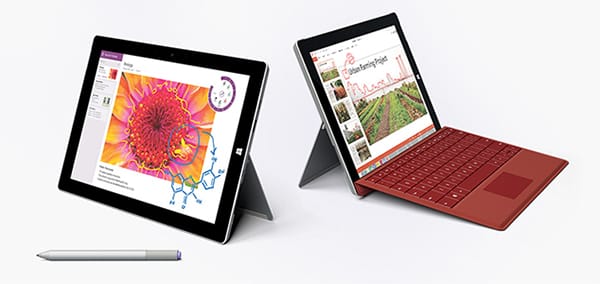 The Surface 3 is Microsoft's first Surface tablet with full-Windows that isn't part of the Pro line. It's a bit smaller than the Surface Pro 3, but still packs a lot of features at a smaller price tag.
Surface 3 features a 10.8 inch, 1920 x 1280 Full HD Plus screen. It was released with Windows 8.1 but is already available with Windows 10 and there is an LTE 4G version. It has an 8 MP camera and a 3.5 MP selfie camera. Available with 64 GB or 128 GB storage. It also has a microSD slot for expanded storage.
Microsoft tablets are a popular option for business use, due to the features available, like the ability to run Windows desktop software including Microsoft Office, iTunes, Photoshop and more. The Surface Pen makes it easy to draw and take notes. You can also rest your hand on the tablet to write naturally without leaving palm marks. The Surface 3 Docking Station allows you to easily connect monitors, a full-size keyboard, printers and more to the device.
We worked together with Microsoft to design and manufacture our Surface 3 Tablet Holders as part of Microsoft's Designed for Surface program. This program allows us early access to the tablets for product development.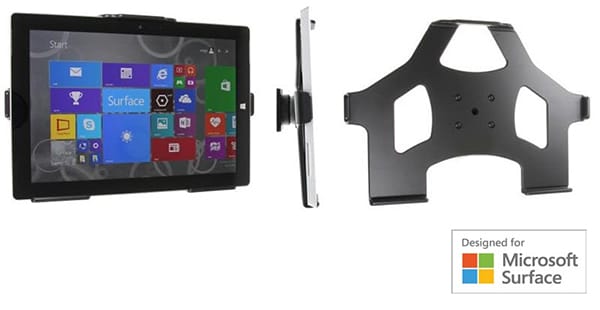 ProClip Microsoft Surface 3 Tablet Holders are custom fit to the Surface 3 dimensions. They can be mounted to any wall, desk, flat surface or mounting bracket, such as a vehicle Dashboard Mount or Pedestal Mount. Holders are also available with or without charging options. Charging is offered as either USB cigarette plug adapter or hard wired charging for fixed installations. Locking holders are also available in spring and key lock for use in either our vehicle Headrest Mounts or for check in and payment stations.
Our many mounting solutions for the Surface 3 are as diverse as this tablet's capabilities!