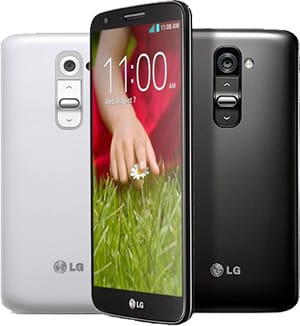 While LG has struggled to release a strong smartphone in the last few years, the G2 is a different story. With a sleek style (the first smartphone with no buttons on the side) and impressive specs, the G2 is making a name for itself. Just recently, tech magazine Stuff named it Smartphone of the Year and Gadget of the Year.
LG G2
The G2, released in September, features a high resolution 1080 x 1920px 5.2-inch display with Gorilla Glass 2. It comes with 2 GB RAM and either 16 or 32 GB of internal storage, which is all you'll have access to because there is no MicroSD storage expansion option.
Both primary (13 MP) and secondary (2.1 MP) cameras feature 1080p video. The G2 was released on Android 4.2 JellyBean, which should be upgradable to KitKat in 2014. With up to 17.5 hours of talk time, the battery life is a plus.
As mentioned, it is the first smartphone to not have any buttons on the side. The power and volume buttons are located on the back of the phone just below the camera. With this design, LG also added a double-tap screen functionality that will lock down or open the phone.
LG G2 Car Phone Holders
We have six LG G2 phone holders.
Holder with tilt swivel
Charging holder with cigarette lighter plug
Charging holder with USB cigarette lighter plug
Charging holder with straight power cord
Adjustable charging holder with USB cigarette lighter plug
Adjustable charging holder with straight power cord
The adjustable holders are for G2 with or without a slim case and/or slim extended battery. If you use a larger case, measure your phone with the case and choose one of our universal holders.