Have you been anxiously awaiting a device holder for your HTC One S? Well, rest easy because we now have a charging holder available for you!
HTC One S
If you're an HTC loyal customer and just picked up a new One S, we have good news for you. We now have a charging holder for the HTC One S available with tilt swivel and cigarette lighter adapter.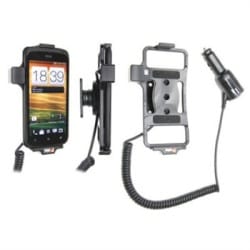 A charging holder is a great way to always keep your device in easy reach and charged and ready when you need it. This holder features a discreet design that keeps your phone in an upright position, which helps you get the best cell and GPS reception possible. Which of course is a must in order to get the "oohs and aahs" from all your friends.
Don't have an HTC One S?
Maybe you have a stylish iPhone 4 that talks to you. Don't worry; we have car mounts for your iPhone and other devices too. Of course those phone manufacturers want to make it difficult for you to always have the newest technology. They seem to be rolling out new phones all the time, but we are constantly designing new holders and mounts to meet your needs. Be on the lookout for more new product announcements later this week.
Don't Miss A Beat
Subscribe to our blog and get in-depth news like this article.