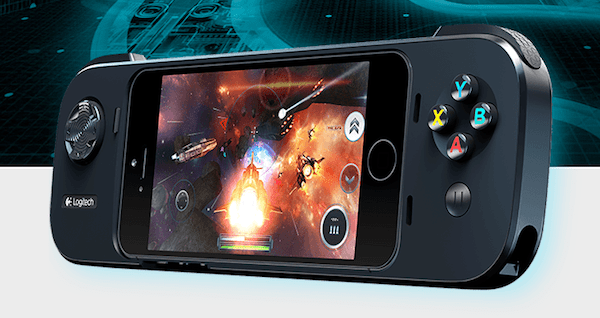 iPhone is certainly one of the top gaming platforms, whether comparing with other mobile, or even console, gaming. With hundreds of thousands of App Store gaming apps, Apple is one of the leading game distributors in the world. Games are now at the fingertips of users who own iOS devices and downloading a new app is seconds away from the desire.
Logitech is hoping to make the iPhone 5/s or iPod Touch 5th generation a more serious contender in the mobile gaming marketplace by introducing the PowerShell Controller + Battery. With a built-in 1,500 mAh battery, the PowerShell encases iOS devices with a full console style controller and the power to keep gaming late into the night.
Console controls include the age-tested D-pad and an X-Y-A-B button cluster on the right. Additional control is offered with shoulder buttons. With external buttons, the PowerShell increases on-screen viewing area and gives a more natural grasp than traditional iOS gaming.
The on-board 1,500 mAh backup battery essentially doubles the lifespan of an iPhone 5 charge. Using an included micro-USB cable, recharging the PowerShell also charges the iPhone with passthrough technology. To ensure no one is left in the cold, an external indicator displays a low battery warning.
Although there is a complete console-style controller built into the PowerShell, it maintains a reasonable size at 200mm x 63mm x 21mm (L x W x H) in comparison to the iPhone 5, which measures 123.8mm x 58.6mm x 7.6mm (L x W x H). At 120g, the controller only weighs 8 grams more than an iPhone 5. With these dimensions, the PowerShell should fit comfortably in a pack or travel bag.
To ensure iPhone operability, access is still granted to the volume and sleep/wake buttons, including the mute switch. A cut out is used to take photographs with the backward facing camera. The headphone output is covered, but the PowerShell uses a headphone adapter piece to gain access to sound.
Platform compatibility is limited to iOS 7 only. As compatibility is limited to only the newest operating system, there is currently a short list of games that take advantage of the new hardware. Logitech appears to be keeping track of operable games on a public listing. Compatibility is controlled through Apple's standard API, which helps app developers and Logitech coordinate efforts. Games in the App Store will list individual game controller compatibility as well. Since the hardware and API are both new, look for future games to build in this option and even some devs may go back to their existing game and add compatibility.