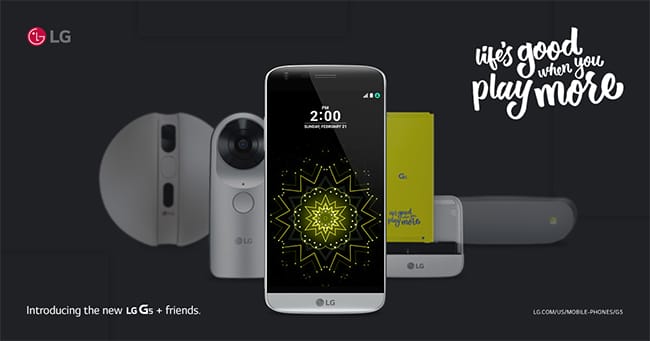 The LG G5 is not the LG smartphone you're used to. Instead, the new G5 offers users the experience to "play more." Sold separately from the LG's newest flagship phone are its "Friends," a series of additional gadgets that were designed with the G5's unique modular design in mind. This design is what really sets the phone apart from the pack of mobile giants like Apple and Samsung. While LG may not be known for its innovation traditionally, enthusiasts are taking note of these thoughtful design features.
LG G5 Design and Friends
A modular design offers users the ability to customize their device. An innovative slide-out battery can be swapped to keep users connected 24-7. LG is calling the slide out mechanism the "Magic Slot," and it's what makes the device compatible with the G5's Friends accessories.
The LG G5 Friends accessories include:
LG Cam Plus: A camera module that provides a better grip, additional battery power and physical camera controls.
LG 360 Cam: Made with the Periscoper in mind, this modular offers 360 degrees of 1280p video recording.
LG Hi-Fi Plus: Designed by B&O Play, the Hi-Fi Plus features a contemporary design with a 32 Bit DA converter and amp for use on and off the phone.
LG 360 VR headset: This lightweight headset offers users an interactive virtual reality experience and features a 130″ HD display.
LG Rolling Bot: Monitor your home and keep pets entertained while you're at work. The Rolling Bot features a built-in camera and laser pointer that users control remotely from their phone.
LG Tone Platinum wireless headset: High quality audio and a sleek, ergonomic design. The LG Tone Platinum offers 11 hours of talk time and 10 hours of music listening.
LG Charging Cradle: With the LG G5's slide-out battery design, users can charge extra batteries in this cradle in seconds.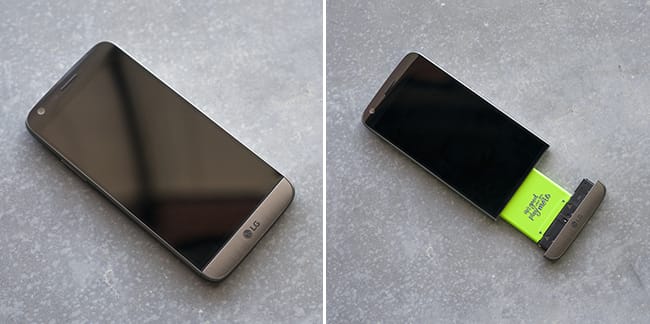 LG G5 Specs
5.3″ IPS LCD capacitive touchscreen
1440×2560 pixels (~554 ppi)
Android OS, v6.0.1 (Marshmallow)
Qualcomm MSM8996 Snapdragon 820
Dual-core 2.15 GHz Kryo & dual-core 1.6 GHz Kryo
16 MP main camera, 8MP selfie camera
Removable Li-Ion 2800 mAh battery
Fingerprint sensor
LG G5 Car Mount Phone Holders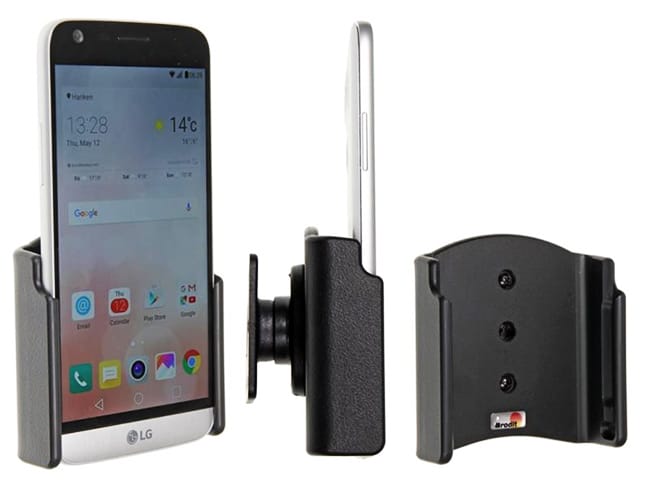 Car phone mounts provide a safer way to access your phone's GPS, music streaming and hands-free talking capabilities.
ProClip USA offers custom LG G5 phone holders. Our phone holders are the first part of our two-part dashboard phone mounting solution. They are designed to fit the G5's specific dimensions, giving our holders the most secure hold possible. Each holder is made of high quality ABS plastic for durability. Available in a variety of charging options, ProClip phone holders feature Tilt-Swivel, offering users the ability to angle the holder 15 degrees any direction and rotate the device 360 degrees, from portrait to landscape mode. A sleek design ensures your holder blends in discreetly with your vehicle's interior.
The second part of our two-part mounting solution is our dashboard mount. Just like our phone holders, ProClip vehicle mounts are custom designed to fit your specific dashboard's design. Simply select your vehicle's make, model and year to find the mount for you!