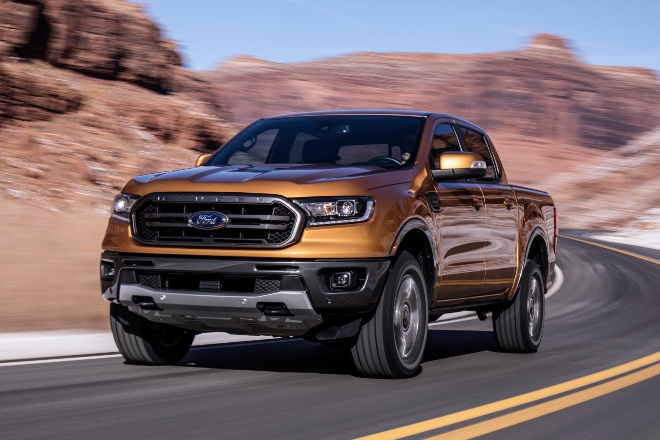 2019 Ford Ranger Named Best in Class Fuel Economy Rating
The 2019 Ford Ranger earned top fuel economy rating in its class of midsize pickup trucks. According to EPA estimates, the 2019 Ranger equipped with a 2.3-liter EcoBoost turbocharged 4-cylinder engine and rear-wheel drive came rated a 21 mpg city / 26 mpg highway for a combined 23 mpg rating.
Other entrants in the midsize truck class include the Chevrolet Colorado, GMC Canyon, Toyota Tacoma, Nissan Frontier, and Honda Ridgeline.
Mileage results vary depending on engine configuration and whether the vehicle is front-wheel drive (FWD), rear-wheel drive (RWD), all-wheel drive (AWD) or 4×4. Here are the 5 top rated midsize trucks for each manufacturer.
Gasoline-Powered Midsize Fuel Truck Economy EPA Ratings
VEHICLE
DRIVE
ENGINE
CITY
HIGHWAY
COMBINED
Ford Ranger
RWD
2.3L Turbo I4
21
26
23
Chevrolet Colorado
RWD
2.5L I4
20
26
22
Honda

Ridgeline

FWD
3.5L V6
19
26
22
Nissan Frontier
RWD
2.5L I4
17
22
19
Toyota Tacoma
RWD
2.7L I4
20
23
21
Diesel-Powered Midsize Fuel Truck Economy EPA Ratings
In non-gasoline powered vehicles, the diesel versions of the Chevrolet Colorado and GMC Canyon rated better than even the RWD 2019 Ford Ranger for highway driving. The Colorado and Canyon both rated 22 / 30 / 25 mpg for rear-wheel drive models.
You can see fuel efficiency ratings for all vehicles at fueleconomy.gov.
Mid-Sized Truck Price And Towing
When it comes to price and towing capacity, there are some significant differences among these competitors:
The Ford Ranger, equipped with the towing packages, sports a towing capacity of 7,500 pounds. The 2019 model has a starting

MSRP

of $24,300*.
The 2019 Chevrolet Colorado has a maximum tow rating of 7,700 pounds and

MSRP

starting price of $20,500*.
The 2019 GMC Canyon lists a 7,700-pound towing capacity and

MSRP

pricing starting at $21,400*.
The 2019 Toyota Tacoma has a maximum towing capacity of 6,400 pounds and

MSRP

of $25,550*.
The 2019 Nissan Frontier King Cab has the lowest entry price in the class, starting at $18,990*

MSRP

and a towing capacity of 6,500 pounds.
The 2019 Honda

Ridgeline

has the highest starting price at $29,990*

MRSP

and a towing capacity of 5,000 pounds.
* All prices exclude destination and delivery fees, tax, title, dealer fees, emission fees, and optional equipment.
Mount Your Phone with ProClip
Make sure you're staying safe on the road in your pickup truck. Dock your phone in a safe place with a ProClip mount. ProClip mounts snap into the seams of your truck's dashboard with no drilling required. Attach a ProClip device holder to the mount to complete the tw0-part solution providing you a safe and secure place for your phone. Planning on picking up the 2019 Ford Ranger? Send ProClip Customer Service an email to be notified as soon as we have mounts available for your new truck.