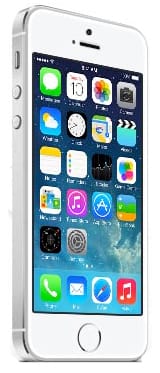 Over the last few weeks we have been running a giveaway for the iPhone 5s. We stood in line to buy the new 5s on Friday when it was first available in stores. Now that our winner has confirmed and accepted this awesome prize, we can announce the lucky name.
And the Winner Is…
The winner of the iPhone 5s is Jack Onstott!
Congratulations and thank you to everyone who entered!
Looking for 5s and 5c Phone Holders?
Did you also stand in line on Friday to buy one of the latest iPhones? If you're looking for a new iPhone car mount, check out our article on iPhone Holders for 5s and 5c where we talk about holders we already have that will work with the 5s and what's coming for 5c.
ProClip Monthly Solution Giveaway
Don't forget to enter our Solution Giveaway on Facebook. Enter once a month for the chance to win one of two ProClip mounting solutions given away each month!
And don't miss our next big giveaway on Facebook! Stay connected with us on Facebook, Twitter and Google+ and subscribe to our blog so you'll never miss out on an opportunity to win great prizes!