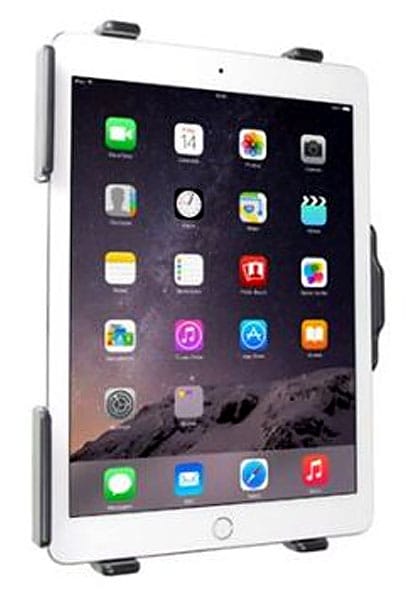 iPad Air 2 Car Mount Holders – Part 1 of our 2-Part Device Mounting Solution
We offer several iPad Air 2 car mount holder options for mounting your device in your vehicle. Our iPad Air 2 holders are the first step in our two-part mounting solution. Each holder is custom designed to fit your device model for the most secure fit possible. Our quality products are hand tooled in Sweden of high grade, heat and cold-resistant ABS plastic.
iPad Air 2 holder options include charging capabilities through USB, hard wire or cigarette plug adapters. We also offer holders with spring or key locks, making them the only holders on the market that are crash tested, and a safe solution for our headrest mounts. All of our iPad Air 2 tablet car mount holders feature our tilt-swivel design, so you can easily switch your view from portrait to landscape mode.
Vehicle Mounts – Part 2
Just like the iPad Air 2 car mount holders, our vehicle mounts are custom made to your vehicle's make, model and year. This customization allows for mounting your device in just the right place on your dashboard. Installation is easy and won't cause any damage to your dash, as drilling is not necessary. Our mounts snap into the crevices of your dashboard for a secure hold you won't find anywhere else.
Available iPad Air 2 Holders

You can also take your iPad Air 2 on the go with a ProClip MultiStand!