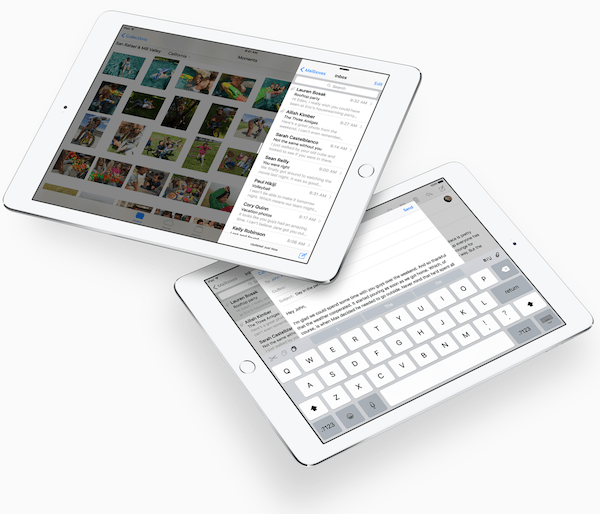 Earlier this week, Apple hosted a 3.5 hour media event to kick off the Worldwide Developer Conference. Because the entire week of sessions is geared toward developers, many of the on stage conversations were directed at software improvements for Apple's existing hardware lineup. Not a single hardware device received an update mention, leaving iPhone, iPad, and Apple TV speculations to be sorted sometime this fall. However, the updates made to iOS 9 for iPhone and iPad show a lot of promise.
Particularly, iPad's feature set allows users to be much more productive on the device. Let's create a scenario. Say you are browsing the web, knee deep in a great article and you quickly want to check a Twitter message that just came in. With iOS 9, you can now swipe from screen right and have Twitter load a small window on the side of the screen. Quickly reply, then boom, you never left that article. See the image below.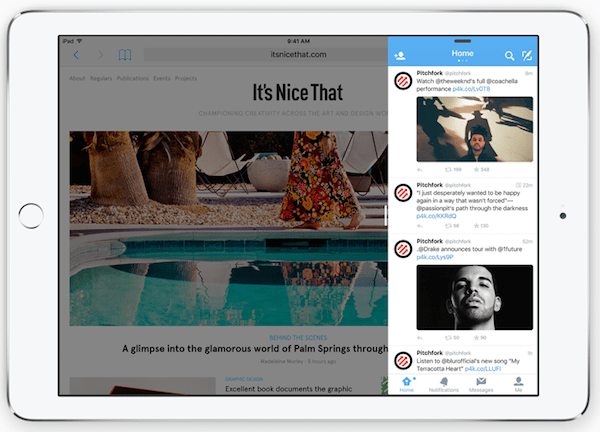 It may seem trivial at first, but think about all the time saved without needing to constantly switch in-and-out of apps. Simply swipe and you are there. The Slide Over feature can be used with any app that is updated to support it and has Auto Layout technology. For the techies in the room, using Slide Over essentially loads the iPhone layout of an app in a small corner of the larger iPad screen.
Then next logical step up from Slide Over is Split View. Split View allows two apps to be open and completely active at the same time. It is like having dual monitors, but on a single mobile screen. The example Apple offers is: read an iBook on the left and take notes on the right. Split View is only available to operate on iPad 2, most likely because of the robust hardware set. This new feature adds fuel to an already large fire, causing speculation about Apple releasing a larger 12″ iPad this fall.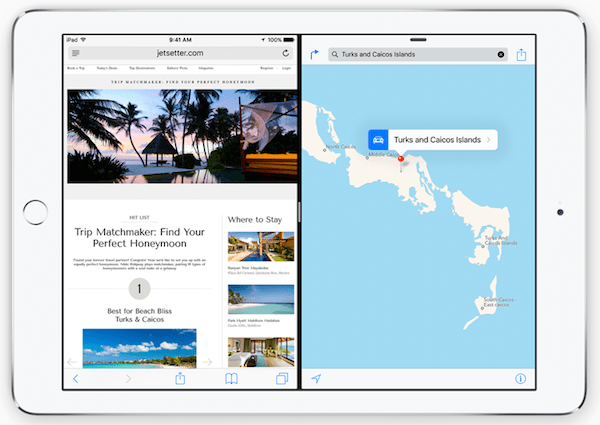 If productivity is not the most exciting part of the update, try Picture in Picture (PiP). You've heard the term before, when the feature was a big deal in late '90's TV sets and, for the most part, it is exactly the same on iPad. PiP comes to the iPad in iOS 9, allowing users to shrink enabled video apps into small, yet scalable frames on the iPads screen, regardless of other activity. How many times are you watching your favorite show on Netflix, only to be interrupted via text message? With PiP, keep watching your show, even while responding in the full blown messages app.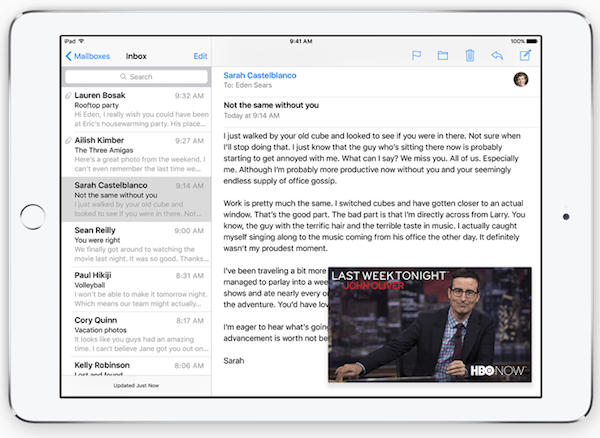 All of these new features are already available to developers in the iOS 9 beta, which launched earlier this week. The beta period will allow publishers to update their applications, taking advantage of the new tool sets and iOS 9 will launch in "Fall 2015," according to Apple.
If you are hoping to see these tools in action or learn more about the software enhancements, visit Apple's website to watch the full length Keynote.