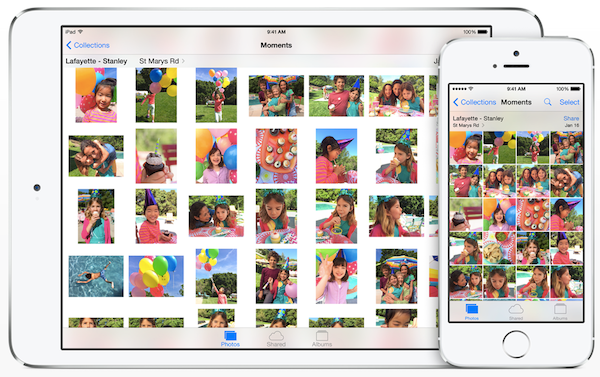 Earlier this month during the Apple Worldwide Developer's Conference, iOS 8 unveiled a bevy of new features for users of Apple's flagship device, the iPhone. In addition to messaging enhancements, which includes HipChat-like features, iOS 8 also boasts great new ways to interact with pictures. Including the ability to see an entire photo library and auto enhancing snapshots.
iCloud Photo Library, announced during the iOS 8 unveil, will allow users to access all of their videos and photos taken from an iOS device, no matter when or where. Previously, Photo Stream was limited to the last 30 days or 1,000 photos, but with iCloud Photo Library, there is no limit. The new feature does need to be activated on the device, leading to speculations there may be an additional charge for the service. It is purported on the Apple website, the library feature will tap into Apple's iCloud storage system that begins at 5GB. Using this library feature will begin with upgrades starting at $.99/month. Consequently, the "unlimited" option seems to come with some reservation.
With all of the additional photos you will, assumedly, be taking with these new features, they will be searchable from an internal search bar. Now, photos may be searched by location name, date, or album name. Can't find the picture you took in New York? Simply type "New York" into the search field and iOS 8 will dig through the GPS tagged metadata in the picture to pull them directly.
Another item linked to the iCloud Photo Library is the ability to make edits to the photos and see the change across all devices. In an effort to prevent accidental, irreparable changes to photos, the edits will be revertible on all devices. iOS 8 promises to make photo editing easy, even automatic. From lighting adjustments to correctional cropping, Photos.app includes great new features. While the app can be set to apply these adjustments automatically, Apple still allows fine tuning by the user. Shockingly, Apple will even allow third party filters to be installed within the stock app to provide greater user control.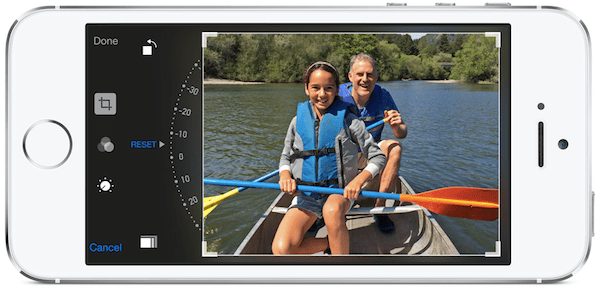 Snapshots are not the only enhancement coming to your iPhone this fall. Apple has slowly introduced new video features as well. In iOS 7, Camera included the ability to take slow motion video captures, allowing users to further enhance their video making/editing skills. This fall, iOS 8 introduces time lapse video. Taking photos at set intervals, defined by the user, the overall video is spliced together at the set parameters. Tapping the record button kicks everything off and iPhone does the rest.
We will continue to highlight new iOS 8 features as we get closer to launch.