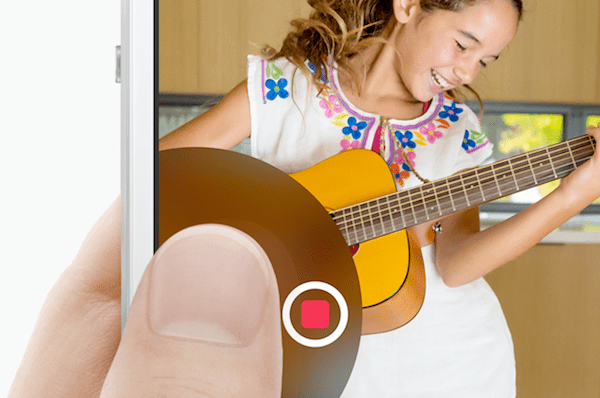 At Apple's Worldwide Developer's Conference, many announcements were made about upcoming operating systems designed by the Cupertino based company. In particular, iOS 8 will enjoy many new features when released this fall. Although iOS 7 benefitted from a major design overhaul, arguably the biggest since iOS 3, when users were able to add customized wallpapers.
iOS 7's design change was polarizing for Apple users the world over. Many took to social media, complain the change was too drastic and disorienting. Some users even complained of motion sickness with the new parallax and zooming effects. Although, no matter how stark the design change, there were no major feature additions for iOS 7. With the new skeuomorphicless iOS 7 behind, Apple could focus on major feature upgrades for iOS 8. Based on their WWDC announcement, there are plenty of new features to keep even long time users busy when it releases.
Messages.app received quite a significant ability boost with iOS 8. Currently in beta testing through Apple's iOS Developer Program, sending an iMessage is no longer limited to text. iMessage, which is an Apple ecosystem messaging feature, much like Blackberry's BBM, allows users with any Apple device to communicate via text, so long as an Apple ID is registered. Until iOS 8, messaging stopped with text and emoji's.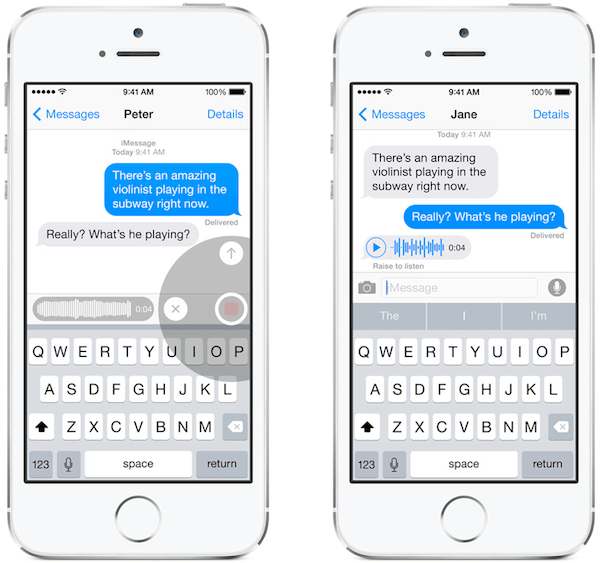 To send an audio file, tap the microphone button and instantly began recording. Once finished with your message, slide up to the send arrow. The clip will be sent through iMessage to the recipient. On an iPhone, the user can simply hold iPhone to the ear, even on the Lock screen, and the message is automatically played. Similarly, tap and hold the camera to record video or grab a quick selfie. Instantly, the video or picture will be transmitted to the recipient. Some argue this will put a serious challenge to HipChat, which offers similar features.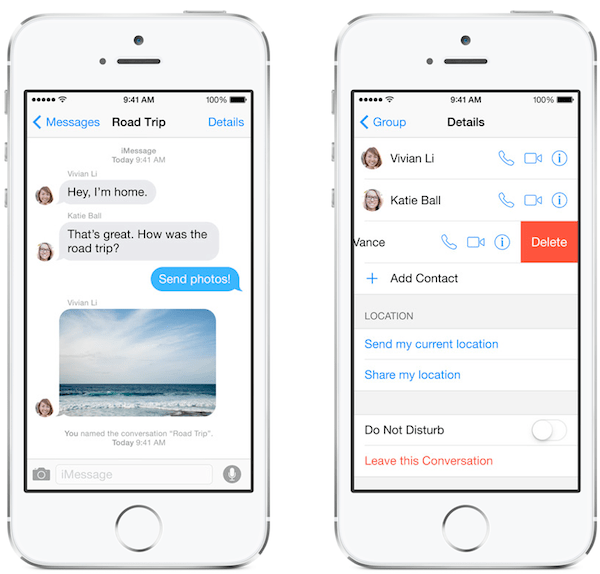 Group message is also a popular iMessage feature. iOS 8 allows for more control over a group messaging thread. Importantly, users can selectively remove themselves from a group threaded conversation or silence the conversation to prevent alert messages each time someone presses send. Similarly, individuals can be force removed from a group conversation as well. For a touch of customization, group chats can be named for convenience.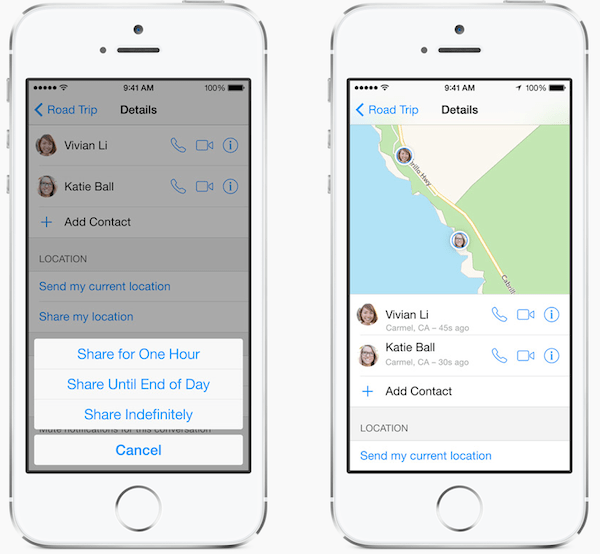 When trying to connect with friends and family, sometimes it is just a little too difficult to explain exactly where you are located. Maybe you are not interested in explaining to dear old dad your location with turn by turn directions. Using the Find My Friends app, users could setup temporary or permanent tracking capabilities between devices. Finding this process cumbersome, Messages.app will allow users to share their location via an iMessage invitation. Selecting share my location prompts a user specified time, as seen above. Other people within the message can now easily view your location without having to download and log into another app.
Additional features will be included throughout iOS 8 and we will keep you posted through a small series of entries specifically tied to the updates within the new mobile system. Currently in Beta v1, there could still be some new items that pop up before the Golden Master copy is released to the public this fall.