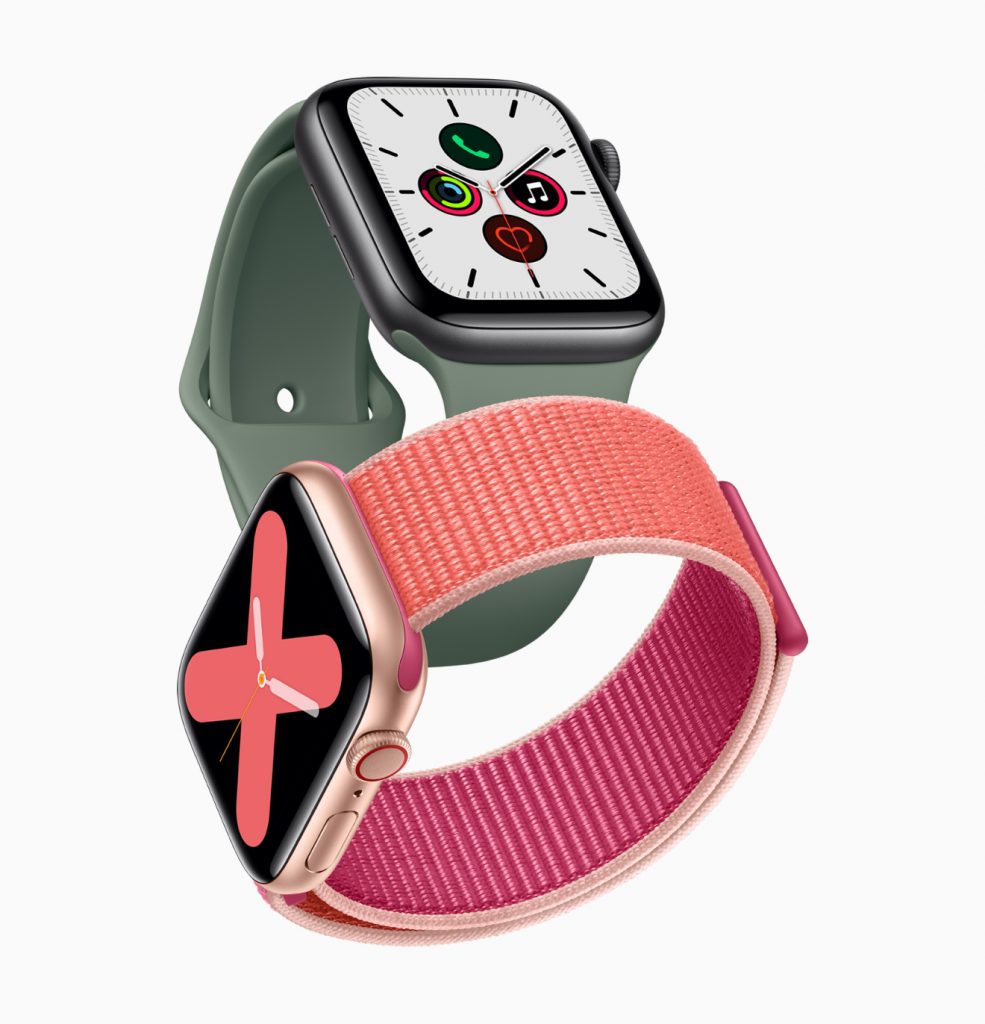 On Tuesday, September 10 the tech world tuned in to watch as Apple officially announced the newest lineup of iPhones. While the unveiling of the iPhone 11, iPhone 11 Pro and 11 Pro Max were notably the biggest announcements from the Apple keynote, there was still plenty of other exciting news.
Apple Watch Series 5
Not only is the Apple Watch the best-selling smartwatch on the market, it very well could be the best-selling watch in the world. The Series 4 made incredible leaps forward in making the Apple Watch more than just a smart watch. Apple shared the inspiring stories of how Apple Watch has saved countless lives with medical advancements like fall detection and ECG. Over 400,000 individuals participated in Apple's heart research study and Apple is continuing research with three new studies in hearing, women's health and heart health.
The Series 5 introduces an always-on display for the first time in an Apple Watch. The LTPO display can range anywhere between a 60Hz refresh rate and a 1Hz refresh rate and can do all of this while still maintaining an all-day battery life. The new watch is more customizable than ever with an introduction of titanium and ceramic white, plus more stylish watch bands and covers. The Apple Watch Series 5 starts at $399 and is available in stores on September 20, 2019.
An All-New iPad and iPadOS
Earlier in 2019 Apple announced the introduction of a separate operating system for iPads called iPadOS. The all-new operating system is built with the foundation and familiarity of iOS but will include features and functionalities to make the iPad more user-friendly than ever before. iPadOS will be available for download on September 30, 2019. Apple also made some updates to the most popular 9.7-inch iPad with a larger 10.2-inch display and added Apple Pencil functionality. This new iPad starts at an affordable $329 and will be available in stores on September 30, 2019.
Pricing for Apple Arcade+ and Apple TV+
Apple made headlines in March with the announcement that they were launching their very own streaming service, Apple TV+. We learned more about the content we'll be seeing on TV+ with an exclusive trailer of Jason Mamoa's new show, See. Apple TV+ officially launches on November 1, 2019 at just $4.99 per month for the whole family. The subscription will be free for a full year if you purchase one of Apple's new devices. Apple Arcade will also be launching as a gaming subscription service that features exclusive titles like Frogger on September 19, 2019. The subscription also costs just $4.99 and is expected to roll out an additional 100 new titles within the first year.
What's Next for Apple?
Apple is rumored to be working on a 16" MacBook Pro with a new keyboard that fixes the issues plaguing the current lineup. Other rumored products in the works include noise-canceling AirPods, a Tile-like tracking device, the release date of the Mac Pro and an update to HomePod. Stay tuned for more hands-on looks at all of Apple's newest devices.