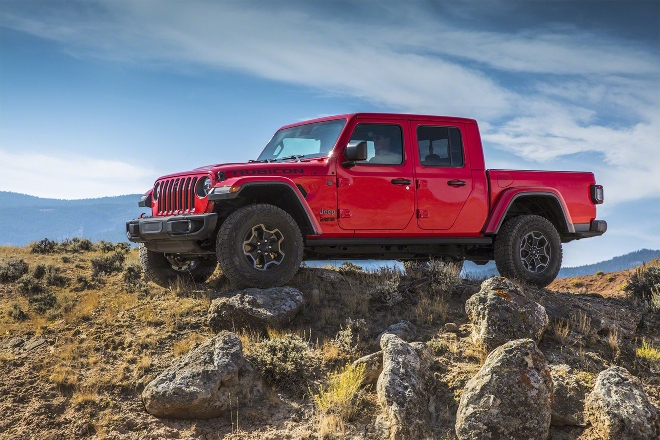 Introducing the Jeep Gladiator
After a 25-year absence, Jeep has finally reintroduced a pickup truck to their lineup of vehicles. Jeep introduced the all-new Gladiator on November 28, 2018 at the Los Angeles Auto Show. Inspired by the popular Jeep Wrangler, the Gladiator looks like an impressive addition to the Jeep family in the second quarter of 2019.
The Gladiator jumps off the page with class-leading towing capacity of up to 7,650 pounds and a 4×4 payload of up to 1,600 pounds. The base option will include a 3.6-liter V6 under the hood producing 285 horsepower. A 3.0-liter turbocharged diesel is also on the way in 2020. Combined with Jeep's impressive track record of high-quality off-road vehicles, the Gladiator could be the perfect truck for your future adventures.
Inspired by the Jeep Wrangler
The Wrangler-inspired truck will include all of the exterior features that you love about the historically popular Jeep Wrangler JL. The Gladiator will have the same open-air capabilities, including removable doors, a fold-down windshield, and of course the removable soft-top or hard-top. In the back of the truck you'll find a five-foot long bed for your hauling needs. The bed includes under-rail lighting, a 115-volt plug and a tonneau cover.
The Gladiator will be rolling off the assembly lines and hitting the roads in the second quarter of 2019. It will be available in Sport, Sports S, Overland and Rubicon trim levels. While the pricing is still unknown, there has been speculation that the Gladiator Rubicon could cost north of around $65,000.
Roll with ProClip
No matter where the adventure takes in your Jeep Gladiator, you can get there with help from ProClip. Keep your phone safe and secure, even on the bumpiest terrain with a custom mounting solution. Once the Jeep Gladiator is available, we'll work on a custom ProClip solution. In the meantime, check out our selection of mounts for your Jeep or other vehicle in our vehicle product finder.