Introducing the All-New SYNC 4
Larger screens, split screens, adaptive dash cards, and wireless options – those are the headlines on Ford's new SYNC 4 infotainment system. It's set to launch on new vehicles in 2020, but the automaker hasn't announced which vehicles or committed to a launch date. New graphics will power the new system. Combined with twice the computing power of its SYNC 3 system, it should be highly responsive and faster than previous iterations.
Scroll Through Adaptive Dash Cards
The software can handle larger screen sizes up to 15.5 inches. If Ford deploys a display that big, it will be the largest on the market today. On 12-inch screens, you'll be able to split windows in the display to show audio tools and navigation simultaneously. The largest screens will also facilitate Adaptive Dash Cards which allow you to cycle through multiple menus. You'll be able to scroll through 9 different screens.
"SYNC has always featured the best of Ford innovation to help our customers stay connected to and manage their busy lives as they move about the world, with this new fourth-generation technology, we've evolved SYNC into an intelligent, voice-activated, in-vehicle digital assistant." said Hau Thai-Tang, Ford chief product development & purchasing officer in a news release.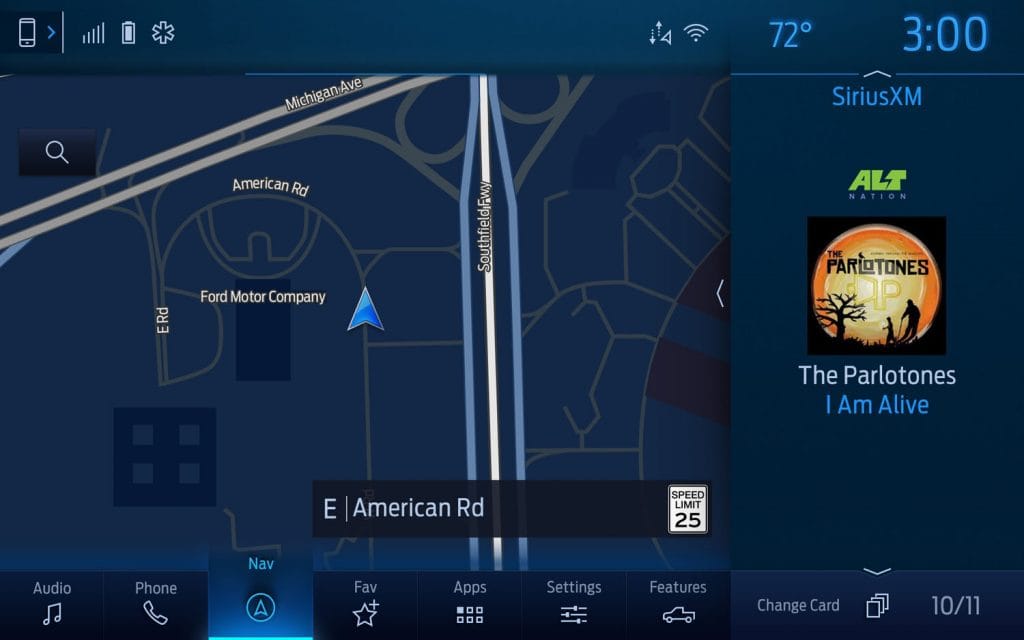 Improved Voice Commands and AI
Voice activation, AI, and Machine Learning will be part of the interface. Ford promises a much-improved voice command module that better understands conversational requests. The automaker also reports that SYNC 4 will learn your preferences and make suggestions based on your prior use. Wireless tools will play a big part in SYNC 4. You'll also be able to wirelessly connect to Apple CarPlay and Android Auto. This lets you keep your phone on a ProClip phone mount without having to run cables. The car will get updates wirelessly and you'll be able to continue to use the interface while the updates are in progress. Ford said it's the first automaker to enable this over-the-air software update platform which installs updates in the background. Some models will also include wireless charging.
Every new Ford vehicle will offer the optional FordPassConnect. That connects vehicles to the cloud with a 4G LTE Wi-Fi Hotspot. If you're driving an electric version of the Ford, connecting to the cloud will display the closest electric car charging stations. If you're using the navigation system, you'll get cloud updates on road and traffic conditions.