We released a few holders recently that feature a new adjustable design. Most of our adjustable holders are designed to adjust on the sides. This new design features cutouts on the sides and a top piece which adjusts to fit the device. The side cutouts are ideal because they open up side ports and allow for all different types of cases and covers.
We've had a lot of comments and good questions about this new design and want to take the time to explain these holders a bit more.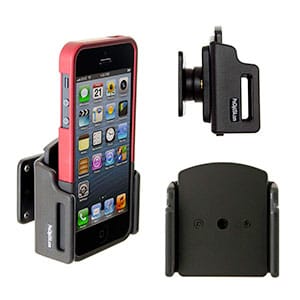 How the New iPhone 5 Adjustable Holder Works
These holders feature a top clip which slides up and down to adjust for different size cases, covers, skins, wraps and super thin cases. There is a built in mechanism that allows the top clip to glide up and down with minimal pressure yet holds the device securely when docked. We've heard some concerns about how this holder may make it difficult to quickly take the iPhone 5 in and out of the holder.
To show our customers how easy this design is to use, we put together this how-to-use video showing the cable attachment holder with USB cig plug adapter, used with an original Apple Lightning USB cable. Our other holders with this same top adjustable design will work in the same fashion.
How the New iPhone 5 Adjustable Holder is Made
Most of our holders and mounts are made of High Grade ABS plastic. These new adjustable holders are machined from a block of Acetal Plastic, which is stronger, more durable and of course, more expensive than High Grade ABS.
The new design is also larger with internal moving parts that are assembled by hand in Sweden. The new cable block attachment design is also hand assembled. In addition, these holders feature a larger, heavier duty tilt swivel which is the same tilt swivel found on our tablet holders.
This new type of material, better tilt swivel and more involved manufacturing process explains why these holders are sold at a higher price point than some of our other holders.
Current iPhone 5 Holders Featuring This New Adjustable Design