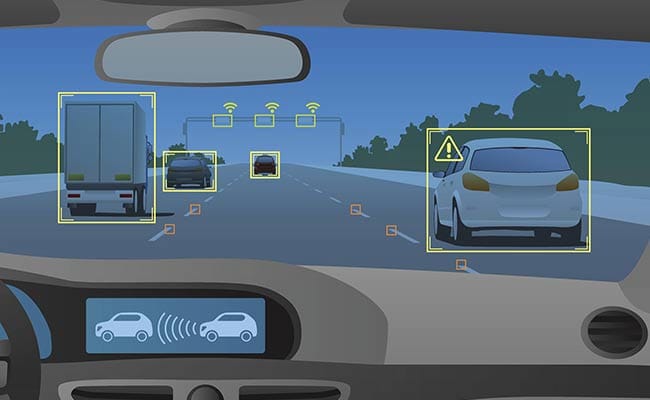 Cars and trucks have become much safer since crash testing became standard practice. Crumple zones, safety belts and airbags are standard while hard surfaces are covered in impact-absorbing padding. Wouldn't it be better though not to have an accident in the first place?
That's the thinking behind Advanced Driver Assistance Systems, or ADAS for short. ADAS refers to sensor technologies that either alert the driver to a hazard or actually intervene to avoid or at least lessen the severity of a collision.
The Technologies
Driving, especially in heavy city traffic, is complicated. It's hard to watch and anticipate what other drivers will do while navigating through congested streets and staying alert to pedestrians and cyclists. That's why a range of ADAS options are offered on most new vehicles and some come with them as standard equipment. The most common of these are:
Adaptive cruise control – maintains a constant distance from the vehicle in front, regardless of whether it speeds up or slows down.
Adaptive headlights – adjust to avoid dazzling oncoming drivers while illuminating the road better, for example, by pointing around a corner.
Blind spot detection –alerts the driver when another car is alongside.
Front crash prevention – warns the driver when closing too quickly on another vehicle and applies the brakes if necessary.
Lane departure warning and prevention – prevents drifting out of lane, as might happen when a driver tires.
Driver drowsiness detection – monitors steering inputs and sometimes the driver, too, to determine when a driver needs a break.
Park assist – uses sensors to help a driver park safely. Some systems will even parallel park without driver intervention.

Backover

protection – using the rearview camera, this stops the driver reversing over something behind the vehicle.
To find out which vehicles come with some or all of these, take a look at "Crash avoidance features by make and model" on the Insurance Institute for Highway Safety (IIHS) website.
The Benefits
Data shows these technologies make driving safer. That's why Consumer Reports calls ADAS-equipped vehicles, "cars that can save your life" and the IIHS requires at least some of them to qualify for their Top Safety Pick+ award.
Modern cars are far safer than their predecessors from twenty of thirty years ago. ADAS makes them safer still, so look for some or all of these technologies on your next vehicle.