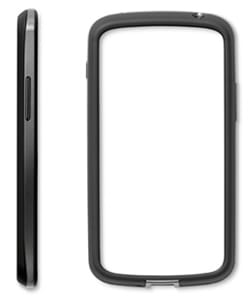 Do you use an original Bumper case on your Nexus 4? Have you been waiting for the perfect holder to attach your shiny new Nexus 4 to your vehicle mount? Wait no longer! Our new holders are here.
Nexus 4 Bumper
The original Nexus 4 Bumper case is available on the Google Play store for $19.99. The Bumper case provides a layer of protection around the edge of the phone and on the glass back without adding a lot of extra bulk. Google Play store was reporting the Nexus 4 Bumper was out of stock in February but it has since been refilled.
Nexus 4 with Bumper Car Phone Holder
We released three custom fit holders for the Nexus 4 that were all designed to accommodate the phone without any cases, skins or bumpers. We now have three new holders that are designed specifically for the Nexus 4 with original Bumper case from Google. These three holders are only meant for use with the Original Bumper Case and have not been tested with other cases, such as the Poetic Borderline Bumper.
Tilt swivel holder for Nexus 4 with Bumper
Cigarette adapter charging holder for Nexus 4 with Bumper
Straight power cord charging holder for Nexus 4 with Bumper
You can check out these and all Nexus 4 car phone holders on our website.