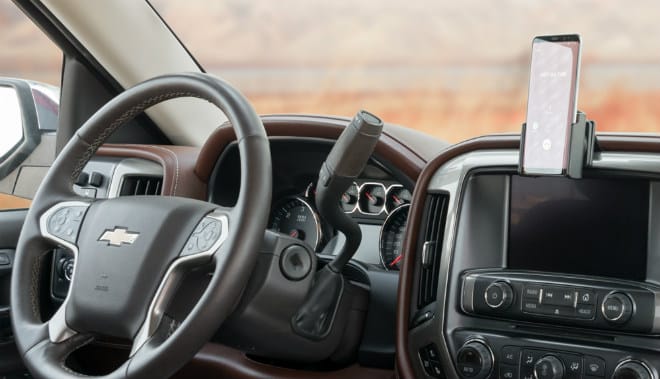 The Chevy Silverado is a hard-working truck both at home and on the job. Strong, fast and filled with luxury features, the Silverado is the Chevy for the lifelong truck owner. The Silverado was rated the most dependable large heavy-duty pickup three years in a row from 2014-2016.
Custom fit to your specific Silverado year and series (1500/2500/3500), ProClip truck mounts keep your smartphone securely docked and within easy reach. Pair this car mount with a custom phone holder made to fit the popular smartphones, including iPhone and Android.
ProClip's Chevy Silverado Center Mount
ProClip's center dash mount is the perfect mounting platform for your Chevy Silverado. This mount clips into the seams of the dashboard, allowing you to install it with no damage to your vehicle.
Attaching your ProClip (2014-2018) Chevy Silverado Center Mount (no. 855014) to your truck's console is easy. Watch the following install video below for a detailed, easy-to-follow instructional demonstration or simply follow the brief installation instructions included with the mount. Remember to always clip in the car mount prior to attaching the device holder!
Install Video: ProClip USA's Chevy Silverado Mount
You now have a solid mounting platform for any one of ProClip's mobile device holders to attach to the face plate of the vehicle mount. Please note that this Chevy Silverado mount is not compatible with modified/aftermarket dashboards. To learn more about ProClip USA's products, visit our website today!