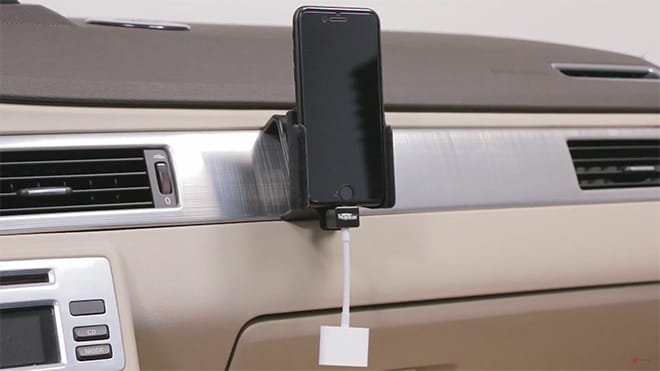 Do you have an iPhone 7 and use the Belkin Lightning Audio + Charge Rockstar splitter? If so, we have the right solution for you. The ProClip iPhone 7 Custom Belkin Cable Attachment Holder (515660) is made to fit your iPhone 7 perfectly to keep it secure and within reach while also allowing it to charge. The padded finish on this holder will keep your phone from getting scratched.
This holder is also compatible with iPhone 6 and iPhone 6s phones. Like all our other holders, the Belkin Cable Attachment Holder features a tilt swivel for portrait or landscape viewing so you'll have the optimal angle while driving.
Belkin Cable Attachment for iPhones
Please note this holder only works with the Belkin Audio + Charge Rockstar splitter. This is a great option if you'd like to simultaneously transfer data and charge your iPhone. To connect, insert the lightning end into the bottom of the block until you hear it click into place for secure charging. For more information about this phone holder, watch the video below.
Vehicle Dashboard Mounts
Once you have the right car phone holder for your iPhone 7, you will want to select a custom dashboard mount for your vehicle. All our mounts are designed to fit the exact dimensions of the vehicle's dash to provide a secure and sturdy mounting solution. Our vehicle mounts can be installed in less than five minutes and will not cause any damage to your dash.