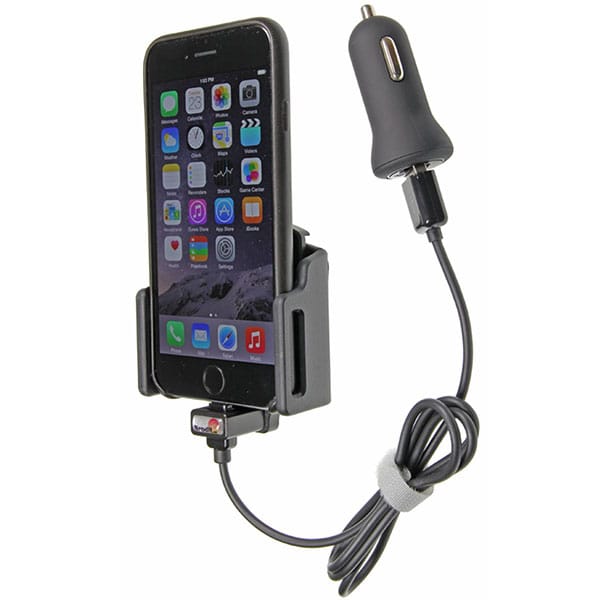 Charging Car Mount Holders for iPhone 6 and 6 plus (with a case)
Our adjustable charging car mount holders for iPhone 6 and 6 Plus are for use with a small to medium-sized case. The holder is the first part of our two-part mounting solution. Use the holders to mount your iPhone 6 or 6 Plus in your vehicle with our dashboard car mounts, which are customized to your car's make, model and year. Or, mount it to a suction cup car mount or to a flat surface with one of our pedestal mounts – which are a great mounting solution for retail or restaurant POS systems.
The car mount holders feature tilt-swivel, allowing you to easily adjust your iPhone 6 from portrait to landscape mode. The cig plug charging adapter features sufficient voltage for charging your iPhone while running multiple apps. It also has a built in feature to protect your battery from being over changed.
All of our car mounts are constructed of high-grade ABS plastic and are made with the highest quality standards in Sweden. If you're looking for a solid, custom mounting solution for your iPhone, look no further.
Stop fumbling around for your iPhone and create a safer and more convenient driving experience!
How To: Installing a ProClip Car Mount Holder
Check out this video to learn more about our Adjustable Charging Car Mount Holders for iPhone 6 and 6 Plus and see how easy installation is!
We offer the same great charging and mounting capabilities for iPhone 6 Plus. Watch the video for iPhone 6 Plus car mount holders.
Get the Adjustable Charging Car Mount Holder for iPhone 6 or 6 Plus with Tilt-Swivel and USB Cigarette Lighter Plug for use with small to medium-sized cases or check out all of our car mount holders for iPhone here!