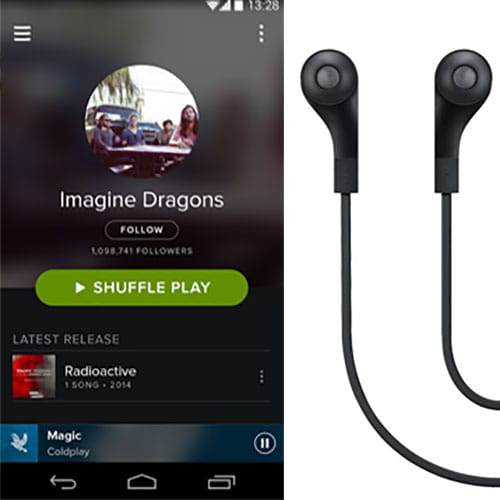 Having an Android phone means having access to dozens of alternatives to broadcast or satellite radio. Put your mobile device in your car phone mount and enjoy a far wider variety of music than you'll find on any local broadcast. Here are a few of our top picks for music on your Android phone:
TuneIn Radio
This Android app lets you access hundreds of radio stations covering every genre you can imagine, including many narrower specialties. Pick well-known broadcast radio options from all over the world. Or, enjoy specially curated internet radio stations in genres that span EDM, classic bluegrass, reggaeton and dozens of others. Best of all, the app has a low bandwidth setting that is great for preserving your monthly data.
Spotify
For several years, Spotify has offered a premium subscription service that gives you access to hundreds of thousands of songs on demand. But, those unwilling to add another monthly subscription to their lives can now get the app for free even on mobile. There's only one minor catch: in the free version, you will only be able to listen to your playlists in shuffle mode. The free version is also ad-supported.
Amazon Prime Music
If you have an Amazon Prime account, you are already paying for Amazon's new music service. Download the app and listen to premade playlists or entire albums. The initial set-up is more time-consuming than with some other options; you need to first add playlists to your library, then go to the library to listen. But, since it is a high music quality option that many people already have free access to, it can be worth the time investment.
Grooveshark
This is another free option that gives music loves a wealth of choices. Musicians and labels upload tracks to be shared. Listeners select tracks or entire albums to drag to their queue. The app also has a radio mode that allows you to discover new music and listen without having to curate your own lists.