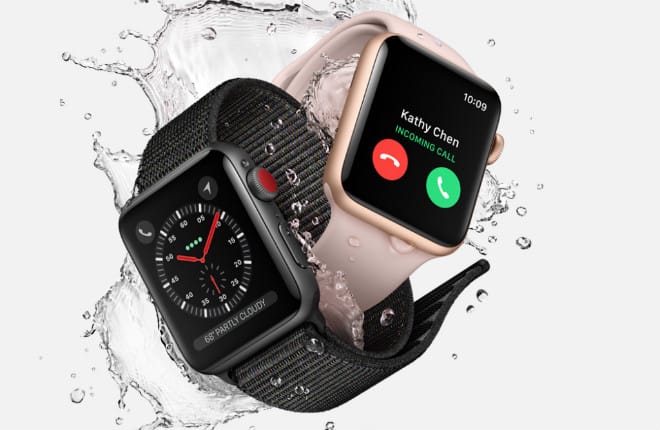 According to Tim Cook, last quarter Apple Watch grew more than 50% compared to the previous year. As of today, the device is now the #1 watch in the world. Surpassing Rolex, Apple is poised to continue market domination with the new Apple Watch Series 3, which was announced on Tuesday, September 12. The all new device includes a cellular chipset, allowing users to completely ditch their iPhone.
The New Apple Watch Series 3
The premier feature of the Apple Watch Series 3 is cellular connectivity, giving you freedom to go wherever without being connected directly to an iPhone. Top of mind is the option to just go for a run with Apple Watch or running out for an errand. Even without an iPhone present, phone calls will come directly to the device, along with iMessages and map navigation. To prevent needing two different phone numbers, Apple has worked out the ability to use your same cellular number as iPhone. New calls can be originated and answered from the Series 3, all with the same number.
Inside, a new dual core processor will boost performance by 70%, which leads to extra functionality, like Siri speaking back to users. Bluetooth and WiFi is on a custom W2 chip, being 50% more power efficient than Series 2. A barometer will help address altitude shifts in workouts as well. Even with the advances in these new technologies, the case for Series 3 is the same size as Series 2. The back crystal did receive a very small thickness increase, but by only the "thickness of two sheets of paper."
The New Apple Watch Series 3 Specs
Cellular & GPS connectivity
Swimproof
70% faster dual-core processor
W2 wireless chip
Apple Music streaming
Barometric altimeter
All-day battery life, up to 18 hours
Ships with watchOS 4
Starting next month, the new Series 3 will also let you stream music directly to the device, using WiFi or via LTE. Naturally, pairing Watch with AirPods will be your best bet for a totally wireless experience. Your entire music library with playlists, radio and favorites will be on your wrist, ready to play at a moments notice.
The new Series 3 will come in Apple Watch Series 3, Nike Plus and Hermes options. A version will be sold as WiFi only, started at $329 and cellular chip models start at $399, for the 38mm case. You can pre-order the device on Friday September 15, with in-store and shipping available on September 22. Cellular versions will have additional cost with your cell carrier, but details were not provided by Apple at launch. Checking with individual carriers, it appears the four major U.S. national retailers will be charging at least $10 per month for access to your existing data plan.