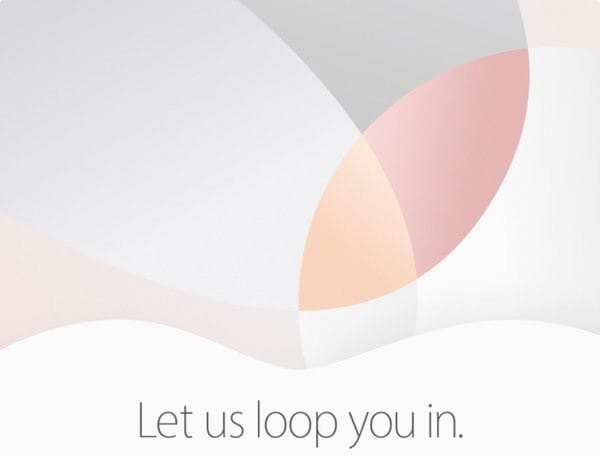 On Thursday, March 10, Apple sent invitations to a media event, which will be hosted on Monday, March 21. The spring events have been a mixed bag of announcements over the last several years. New devices, mostly iPads, are highlighted throughout the year. Last spring, Apple chose the event to formally release the Apple Watch. This year, armchair pundits expect to see a new iPhone SE, iPad, and potentially Apple Watch hardware.
Drawing most attention is the seemingly imminent release of a completely new handset. However, take "completely new" with a grain of salt. The new device has been dubbed, by the rumor mill, as the iPhone SE, or special edition. The naming convention is consistent with a previous Apple desktop, the Macintosh SE, giving relevance to the rumor. iPhone SE is said to be a blend of the iPhone 6 and iPhone 5, with 9to5Mac's Mark Gurman leading the way with product leaks.
In January, Gurman reported the device would launch in March or April with several key features, including iPhone 6 inspired curved edges, updated camera hardware inspired by iPhone 6, modern chipsets, and even Live Photos, like the iPhone 6s. Through the early months of 2016, few rumors deny Gurman's early claim. He even noted the device would not be known as the iPhone 6c.
Recently, the device design estimates have been narrowed to a more hybrid look, landing somewhere between the iPhone 6 and iPhone 5, as outlined in the mockup rendered by Macrumors.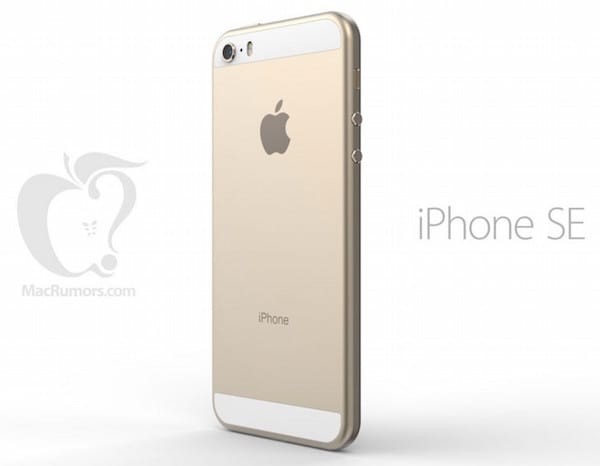 This week, case manufacturer leaks also seem to corroborate the claims of an iPhone 5 inspired body style. According to Macrumors, popular case maker Spigen accidentally leaked iPhone SE cases this week, but from the image, it is nearly indistinguishable from an iPhone 5 case, leaving speculation around the image-value included below. The best indicator is the rose gold shell, which matches expectations for the iPhone SE to come in updated color ways. Additionally, the black bands at the case's top and bottom mimic the iPhone 5 glass panel design.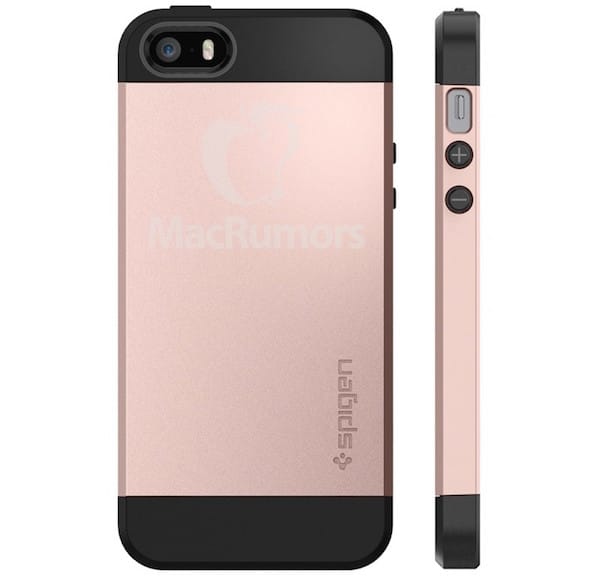 The iPhone SE will hit a reduced price point, according to KGI Securities analyst, Ming-Chi Kuo, via 9to5Mac. Estimating a $400-$500 price range, the iPhone SE will hit a selling point between older $200 off-contract purchases and the iPhone 6. This pricing model would provide an iPhone at roughly $200, $400, $500, $600, depending on model, screen size and hard drive capacity. Since Apple released the larger iPhone 6 models last year, the smaller screen sizes have yet to see an update, potentially leaving money on the table for users with a desire for pocketable small design.
In addition to the iPhone SE, a new iPad Air 3 is rumored to take stage. Similar to all hardware rumors, the name is currently under contention, with some arguing "iPad Air 3," as a continuation of the existing naming convention, or "iPad Pro." iPad Pro would more closely resemble Apple's naming convention for their laptop line, where a MacBook Pro simply comes in two screen sizes. Apple's iPad Pro hit shelves in winter of 2015 with a 12.9″ screen. It stands to reason, if the upcoming device will mimic the same features, but have a smaller 9.7″ screen, Apple could choose iPad Pro.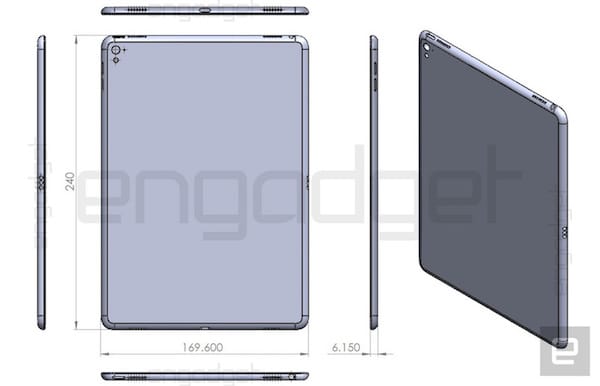 The design schematic from engadget illustrates advice merely identical to the existing 12.9″ iPad Pro. Similarities include a four-speaker stereo design, a Smart Connector for accessories, and similar button layouts. Looking closely, the one addition appears to be a camera flash port.
Little is known about the upcoming iPad release and, like the iPhone SE, there are limited-to-no part leaks backing up any claims by the media. Because of the similarities of the estimated updates to existing hardware, it may be difficult to identify new hardware leaks, simply due to their resemblance of current models.
Even less is known about potential Apple Watch updates. No supply chain leaks indicate an updated version, simply because there are zero leaks for a new Apple Watch. However, the Apple Event tagline "let us loop you in," is causing some speculation around new watch bands. The colors utilized on the poster could indicate there will be updated watch bands, or iPhones, or iPads, in these colors. Currently, there are several Apple Watch bands lacking in rose and yellow gold. No iPads are offered in the new rose gold color way, which is currently exclusive to Apple Watch and iPhone 6s.
The parting expectation is a complete update to all software versions for OS X, iOS, and Watch OS. A handful of betas for these operating systems have been consistently released through the past several months. Currently, the most anticipated update is iOS 9.3, which may even include individual log-ins for multiple users, but this feature is expected to be limited and for education entities only.
All will be revealed on March 21. The event will be live streamed by Apple at 10:00AM Pacific via their website and dedicated Apple TV channel.