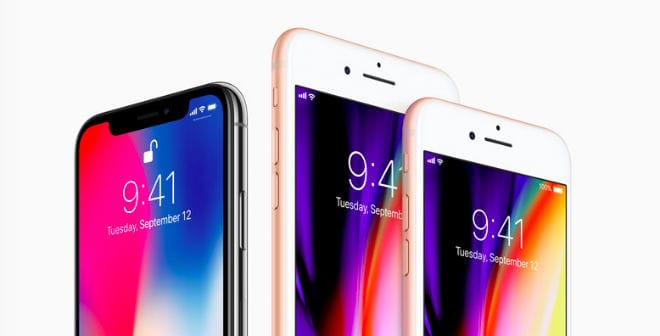 On Tuesday, September 12, Apple unveiled its latest flagship devices. For the first time in its own Steve Jobs theater, located on Apple Park campus in Cupertino, Tim Cook and team unveiled three new iPhone devices. iPhone 8, iPhone 8 Plus, and iPhone X ("ten"), will be the new standards in Apple technology. While iPhone X was the most anticipated device, as the tenth anniversary iPhone, iPhone 8 and iPhone 8 Plus still provide many advanced features over the current iPhone 7. All three devices are certain to push mobile technology forward.
Apple iPhone 8 and iPhone 8 Plus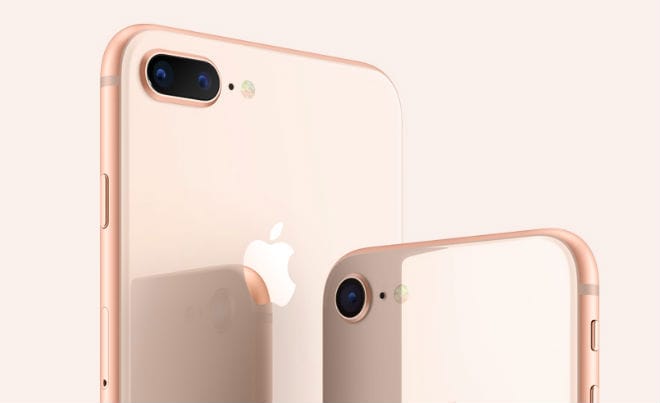 Marked as a new generation of device, that is completely redesigned, the iPhone 8 devices are finished with glass front and backs. While the overall design in no way tries to hide its four year old iPhone 6 roots, the familiar form factor will come in aerospace-grade aluminum as Space Grey, Silver, and a new Gold color way. However, this is mostly where similarities with iPhone 6/s/7 seem to stop.
Glass is a big deal with this generation. The first glass-sandwich design since iPhone 4/s, the 7-layer coloring glass produces a 50% deeper strengthening layer, which is reinforced by steel, making it the most durable in a smartphone. Importantly, the glass back ushers in "wireless," "contact-charging" is a better descriptor, charging for the first time in iPhone's history. Apple Watch is no stranger, but the previous metal iPhone backs prevented resonance charging, that is now supported by the Qi standard. This package is all put together with a microscopically sealed exterior for dust and water protection.
The Retina screen offers color accurate and cinema color gamut technology. Also, the new devices deploy a True Tone display, which matches ambient light for easier reading. The advanced screen is flanked by new speakers, with better projection and deeper base.
A new A11 Bionic chipset is the most powerful chip in a smartphone to date. A full six-core dedicated CPU and 64 bit architecture drive performance. There is a first ever Apple designed 3-core GPU for graphics performance and the Metal 2 graphics framework.
The new camera has 12MP, with a new sensor allowing 80% more light, deeper pixels, new color filtering, and better optical image stabilization. However, OIS is limited to the Plus model. Overall, this leads to better color saturation and lower image noise. New wide angle and telephoto lenses housed in the back camera bump make their way to the 8 Plus.
There is also an advancement in portrait photos, using software and the iPhone 8 Plus hardware. Not everyone has access to a lighting set. Let Apple attempt to fix that. With the A11 Bionic chip, there is a "Portrait Lighting" technology, that takes images in portrait mode and is able to completely drop the background of the photo and properly highlight the image, synthetically. This enhancement can be done dynamically while taking the photo, or even edited thereafter.
Camera improvements also enhance video capture. Using software, the camera analyzes 2 million tiles, to predict movement and prepare the camera for capture of that subject. 4K 60 frames per second will be an option on the iPhone 8 and 1080p at 240 frames per second for slow motion. A third camera advancement category is for deploying Augmented Reality, which allows for simulated graphic overlay of the real world, for everything from games to enhanced navigation.
Apple iPhone X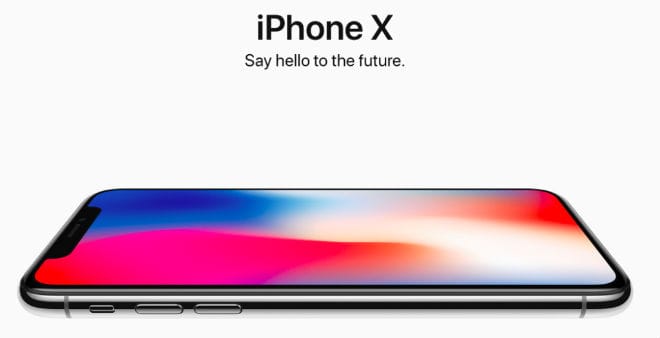 The most anticipated iPhone launch, since the iPhone, Apples tenth anniversary iPhone X is the new crown jewel for the company. The biggest advancement is the display. Edge to edge, top to bottom, with a 5.8″ measurement across corner to corner, the screen is a visual upgrade like no other previous handset from Cupertino.
The sides are a surgical grade, polished stainless steel with cuts for the antenna bands. It comes in Space Grey and Silver, with glass fronts and backs, like the iPhone 8. The Super Retina display is the most advanced on a smartphone with 2436 x 1125 resolution at 458ppi. Super Retina is possible using an OLED screen type. Previous OLEDs had tradeoffs in brightness, wide color support, and color accuracy, but the Apple iPhone X version supports all of these features.
Moreover, the display supports high dynamic range color (HRD) technology, which could previously be captured using iPhone's camera, but never accurately displayed. Both Dolby Vision and HDR10 formats are compatible when viewing enabled content. The 1M:1 contrast ratio is arguably infinite to the naked eye, with black, being a complete true black, even against a bright white pixel in the adjacent position. True Tone is also included, similar to the iPhone 8, which mimics the ambient light in the room on the screen to ease eye strain.
Without a Home button, iPhone X relies completely on the iOS 11 software and multi-touch gestures to replace the now-dated push of the Home button. Waking the device, unlocking the initial screen, and closing apps is all now accomplished by swipe gestures.
Face ID is the new replacement for fingerprint Touch ID and has a security rating of 1 in 1M. Face ID also works with Apple Pay, by looking at the device and holding hit it near an NFC payment terminal. Face Authentication for unlocking, uses the TrueDepth camera system, which employs dot matrix and infrared technology to actually map the users face. Therefore, it cannot be spoofed with merely a photo of the intended user. A fun byproduct of this facial scanning software is Animoji, think animated-emoji. Using Apple Messages, you can make and share Animjoi, using real time facial recognition.
Dual optical image stabilization is offered on both cameras, like iPhone 8, and the front side camera is now better for selfies, given the advancement in the TrueDepth camera system that also allows Portrait mode photography.
iPhone X actually shares many of the same upgraded features of the iPhone 8, but the following specifically set the iPhone X above the less expensive counterpart.
Apple iPhone X Specs
5.8″ Super Retina display
Face ID
12MP dual cameras with dual OIS
TrueDepth camera
Slow Sync flash
Back and Front Portrait mode
Animoji
iPhone 8 is available starting at $699, iPhone 8 Plus from $799, and iPhone X from $999. iPhone 8 devices are on pre-order starting this Friday, September 15, with available in-store and delivery on Friday, September 22. iPhone X is a much longer wait, with pre-orders on October 27 and in-store availability or delivery on Friday, November 3. You can find all of the iPhone details on Apple's dedicated iPhone page.
ProClip USA iPhone 8 and iPhone X Holders
ProClip plans to have iPhone 8 and iPhone X holders available for purchase in the near future. If you are interested, make sure to sign up for news regarding our upcoming releases!