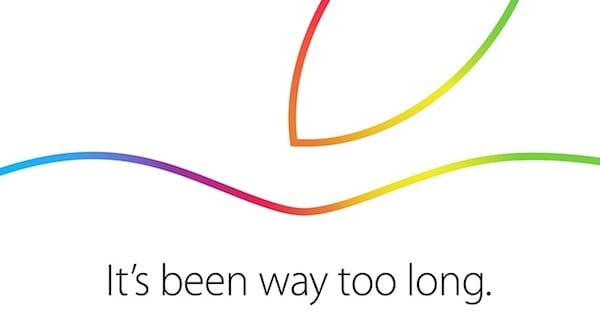 Wednesday, October 8, 2014, Apple released media event invitations for its upcoming announcement on Thursday, October 16 at 10:00AM PST. With a very simple logo and catch phrase "it's been way too long," it will have Apple pundits trying to find meaning in tea leaves for the next week. Speculation is already starting around the rainbow outlined Apple logo, which the company has been using as its official 30 year anniversary logo during 2014. Thus, rumors of new computers are sprouting, from Mac Mini to laptops and iMacs.
"It's been way too long" could have an indication that older, less frequently updated machines will be getting special treatment. The MacBook Pro has not been updated in 850 days, Mac Mini 716, Thunderbolt Display a whopping 1,120, according to the MacRumors Buyer's Guide.
However, primary attention is focused on the rumored iPad Air 2. Compared to iPhone 6, rumors about the Air 2 are somewhat muffled. There have been no major part leaks to date, most likely due to the similar nature of the device to the existing Air. The parts would not necessarily stand out as different, other than a potentially updated A8x processor, an update to iPhone 6's on board processor. Another tech bump could be 2GB RAM, which allegedly surfaced early morning October 9.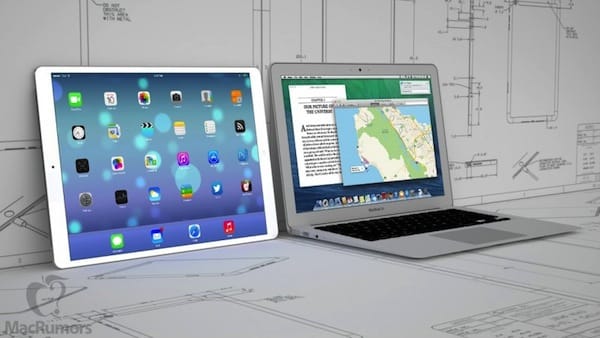 With an updated A8x processor and 2GB of RAM, earlier claims of split-screen multitasking seem like more of a reasonable option. Also, the more elusive 12.9″ iPad Air "Pro" could be a possibility. Split-screen multitasking would require the device to operate two fully powered apps at the same time, arguably taking twice the amount of computing power, particularly RAM. Arguably, Apple would not want to offer this type of functionality without the necessary power or screen real-estate. Before the iPhone 6 Plus, Apple has never given specific functionality to one device, but not another. iPhone 6 Plus can operate in landscape mode, where iPhone 6 cannot.
It stands to reason, based on the iPhone 6 functionality choice, Apple may actually allow split-screen multitasking only on its largest device, giving more weight to the iPad Pro rumor. As seen above, a 12.9″ iPad Pro dwarfs the 11″ Macbook Air. Additionally, there is a recent strong stand that if an iPad Pro releases it may run a hybrid OS, combining the mobile iOS software with desktop class OS X. While this seems unlikely based on Apple's strict opinion that one should design a device for a specific job, they also said tablets were never going to be built.
Considering the most likely options, look for an iPad in at least the two standard sizes, Air and Mini. Expect to see Touch ID added for one touch online shopping, no NFC capabilities. This is even confirmed in the iOS 8.1 Beta 2. It is also very likely Apple will bring gold/white body style to iPad, based on popularity of last years first gold iPhone. If an iPad Pro is going to be released, expect it to be treated like the Apple Watch, with an actual release date months in the future.
Of course, all is speculation until Tim Cook walks out on stage next week!