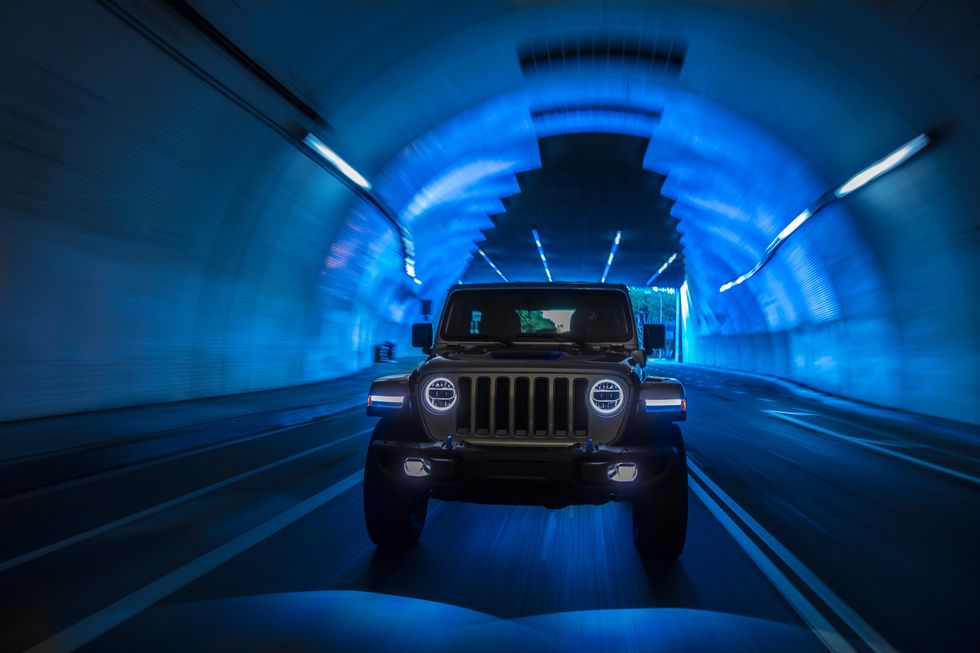 The Jeep Wrangler is going hybrid electric with the Wrangler 4XE. It's pronounced "four by E" and is available in the four-door Wrangler models.
Under the hood, it combines:
A turbocharged 2.0-liter engine
A 44 hp starter-generator (eTorque)
A 134-hp engine with 8-speed automatic transmission
Electric vehicles need large battery packs to store and power them. The Wrangler 4XE is no exception. Two 17-kWh, 96-cell lithium-ion batteries are accessible by lifting the rear seats. Encased in an aluminum housing, it has its own heating and cooling circuit to maintain optimal temperatures to maintain performance.
Because of the batteries and other hybrid modifications, the 4XE weighs 830 pounds more than the Sport V-6 model. It weighs in at around 5,000 pounds.
Wrangler 4XE Miles per Charge / Miles per Gallon
If you are just using the electric engines, the manufacturer reports 25 miles on a full charge. With zero emissions. In regular driving conditions using the electric engine and the gas engine, it's rated for 50 MPGe.
It takes roughly 12 hours to charge the electric batteries once they are fully depleted on a 110-volt charger. If you can use a 240-volt charger, the time drop considerably to just two hours. Drivers can monitor charge levels with a dashboard-mounted indicator.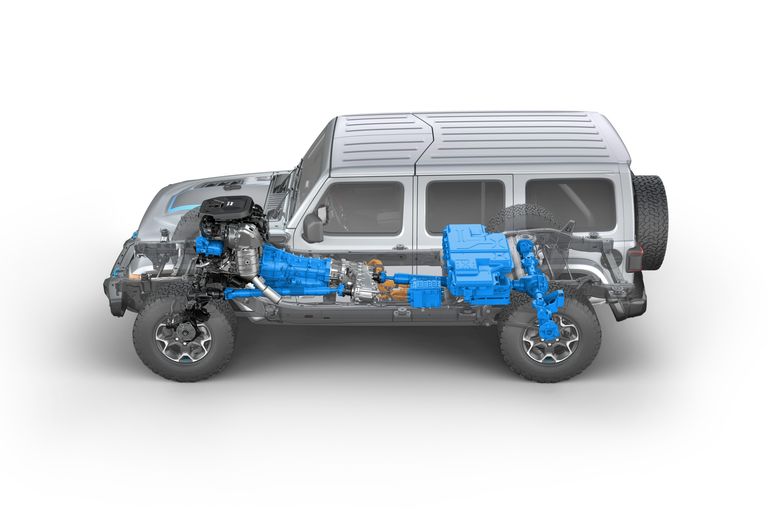 Three Modes of Operation
Three modes will let drivers decide how they want their SUV to operate.
Hybrid: Uses both electric and gas-powered engines as needed
Electric: Uses only the electric engine until the battery is out of power and then switches to gas.
eSave: Save the electric batteries current charge or uses the gas engine to charge the battery
Drivers can access Eco Coaching pages on the information display to monitor power flow, see the impact of their driving history, and schedule charging.
Trail-Rated and Quick
The Wrangler 4XE sports Jeep's trail-rated badge for off-roading. The trail-rated badge signifies it has passed testing for vehicle traction, ground clearing, maneuverability, water fording, and off-road articulation. On top of that, it can go from zero to 60 in about 6 seconds with a total driving range of nearly 400 miles.
The Wrangler 4XE joins another new model in the Jeep lineup, the Wrangler Rubicon 392, the quickest and most powerful Wrangle with a 6.4L Hemi® V8 engine.
In the future, Jeep plans to offer electric or hybrid options for each of its nameplates over the next few years.