Are Suction Cup Windshield Mounts Legal In Your State?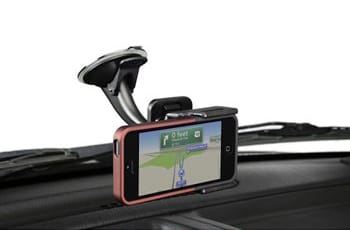 Do you use a suction cup mount to attach your GPS or phone to your windshield?
Did you know this is illegal in many states? In fact, it is illegal in over half of U.S. states!
Surprised? That may be because these laws aren't always highly enforced, but that doesn't mean we can ignore them.
States in Which Windshield Mounts Are Illegal
Alabama
Arkansas
Connecticut
Delaware
District of Columbia
Georgia
Idaho
Iowa
Kansas
Kentucky
Louisiana
Montana
Nebraska
New Jersey

New Mexico
North Dakota
Oklahoma
Oregon
Pennsylvania
Rhode Island
South Carolina
South Dakota
Texas
Virginia
Washington
West Virginia
Wisconsin
Wyoming
There are also a few states in which windshield mounts are legal, but the law states specific requirements on where the GPS unit can be mounted on the windshield.
States with Laws that Restrict Windshield Mounting Location
Arizona
California
Hawaii
Indiana

Maryland
Minnesota
Nevada
Utah
This information is based on a report by POI Factory. Their research was on GPS windshield mounts in particular; however, many of the laws they found prohibited any item from being mounted on the windshield. Check out their report for links to wording of each state's law.
Where Can You Mount Your Device?
An alternative to mounting on your windshield is to use a dashboard or console mount for your GPS or phone. However, make sure to check the laws in your state on any specific rules that may prohibit you from mounting devices in other locations.
Most ProClip mounts are for the dashboard or console. Our mounts are vehicle-specific, so we can design mounts that will fit precisely to each vehicle's setup. Our mounts are a legal option for many people who live in one of the states listed above.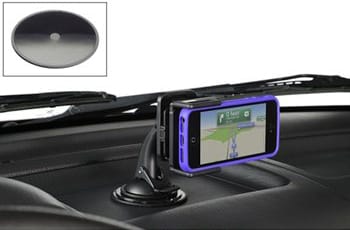 Suction Cup Mount
Although most of our mounts are for the dashboard or console, we also have a Suction Cup Mount. This mount can be attached to your windshield, but it comes with a 3M adhesive dash mount disk so you can also attach the suction cup to your dashboard or console. Here the 3M adhesive disk is used to attach the suction cup to a dashboard.
We also offer Adapter Plates which allow you to attach your own GPS holder to one of our vehicle-specific Dashboard Mounts or Console Mounts. Adapter plates are an easy way to transform the suction cup mount that may have come with your GPS into a legal mounting option for states that don't allow windshield mounts.