Did you know ProClip has a lot of phones, tablets and other fun devices that we use for R&D purposes throughout the year? We use these gadgets and devices to make new custom holders every time another phone or tablet is released, but when we're done, we can give them away to lucky ProClip customers. Sure we could sell them to friends or family, but it's one way for us to say thank you to our customers and have some fun giving them away to deserving fans.
How We Use the Devices
We use the devices to understand their dimensions and how they will fit in our custom holders. We also test the charging holders to make sure the holder charges the device properly. Once we have some holders made for the new device, we usually take a few pictures for the website and promotions, then back in the box it goes, good as new.
What Would You Like to Win?
This month we're giving away a 7 inch Kindle Fire HD! This particular Kindle has never been out of the box!!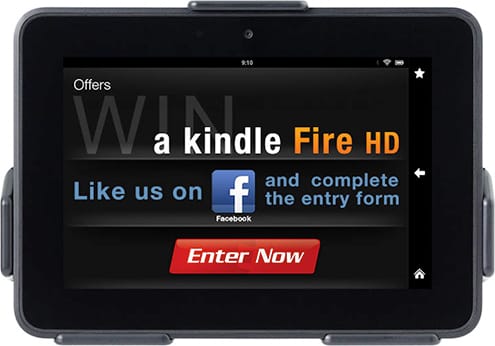 How to Enter
To enter and win the Kindle Fire HD, simply go to our Facebook page and visit the "Kindle Fire HD" tab. From there, like us and an entry form will appear right on the page. Fill out and submit the form and you're in the drawing!
You have until Sunday April 21, 2013 at midnight to enter. We will pick a winner on Monday and announce the winner's name on Facebook once he or she confirms the prize.
What are you waiting for? Go! Enter now!
Terms and Conditions
As with any promotion, there are a few rules to point out. Due to the differences in laws between countries, you must be 18 or older and a resident of either Canada or the United States to enter. Please see the full Terms and Conditions for all giveaway rules and exclusions.