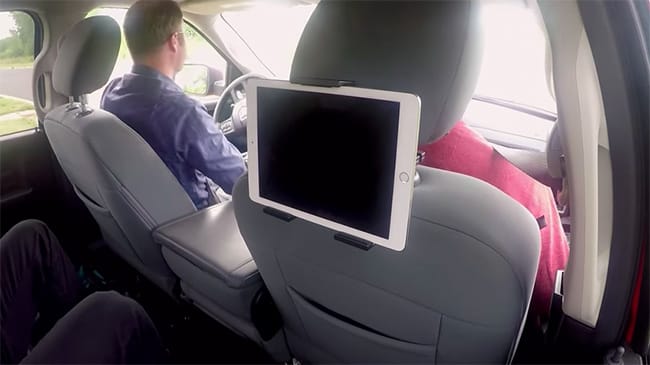 Searching for premium Mopar accessories? The ProClip Headrest Mount, officially licensed by Mopar was designed, built and quality tested to provide best-in-class performance for the avid Mopar enthusiast. ProClip headrest mounts are specifically designed to provide maximum device protection for a variety of consumer tablets. Like any new product development, ProClip set out to validate the strength of the mount – this time with an off-road test of durability.
So how tough is the official Mopar Headrest Mount? ProClip tested one in a 2012 Dodge Ram 1500 in an off road scenario. Enduring treacherous bumps and hopping multiple curbs, ProClip tested the headrest mount for overall strength and durability. No bump could match the strength exhibited by the headrest mount. After the test was complete, the device held strong and was left unharmed. Check out the video!
Clamping around the headrest posts which vary in size, each Headrest Mount installs in minutes with no seat dismantling or interior damage. Shown in the video is the Standard Universal Tablet Headrest Kit #246761 fitting the 2012 Dodge Ram 1500 and the iPad Air 2. Holding tablets in a rock steady position, the Mopar Headrest Mount by ProClip can mount multiple tablet models including the Apple iPad Air 2, iPad Pro 9.7, Samsung Galaxy Tab S2, etc.
ProClip Headrest Mounts are now available for value add-on purchase at Mopar dealerships nationwide. To learn more about Mopar accessories powered by ProClip, please visit www.proclipusa.com/mopar