How do you use your tablet? A tablet's large display is perfect for GPS navigation when mounted on your dash or for movies and games on the back of your headrest. The portable nature of your favorite tablet also makes doing household chores easier with access to apps and the internet. From cooking up your favorite recipe to fixing something under the hood of your car, the best way to achieve all the various tasks awaiting your tablet's helping capabilities, is a mounting system designed with your needs in mind.
Adjustable Universal Tablet Holders
Our universal tablet holders are adjustable and fit most tablets with or without a protective case. The holder's functional design allows you to rotate your tablet between portrait and landscape views, while also adjusting 15 degrees any direction for the perfect viewing angle. We offer our Universal Tablet holder for use with or without a case in two sizes: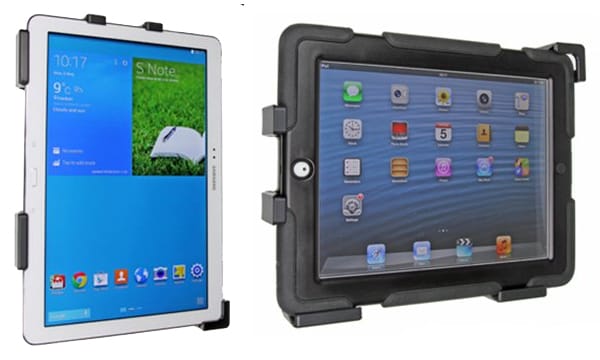 Once the holders size has been adjusted to fit your tablet and case, the only thing left to do is mount it.
Car Mounts
We have the best car mounts for phones and tablets that money can buy. Our car mounts are customized to fit your specific vehicle, providing the best possible position and viewing angle of your tablet. Our sturdy mounts are made of High Grade ABS Plastic and manufactured in Sweden. Our car mounts install within a matter of minutes, with no drilling necessary or dismantling of the dashboard.
Pedestal Mounts
Mounting your tablet on one of our pedestal mounts is a perfect solution for business and retail payment terminals, conference rooms and trade shows, and in commercial vehicles and equipment. The pedestal mount creates optimal viewing of your tablet anywhere that offers a flat surface for attaching.
Headrest Mounts
Our headrest mounts and lockable tablet holders have passed the most stringent USA and EU automotive industry crash tests, to keep your family both safe and entertained during road trips. Our headrest mounts attach firmly to the headrest posts of your vehicle, the safest possible location for mounting rear seat entertainment devices.