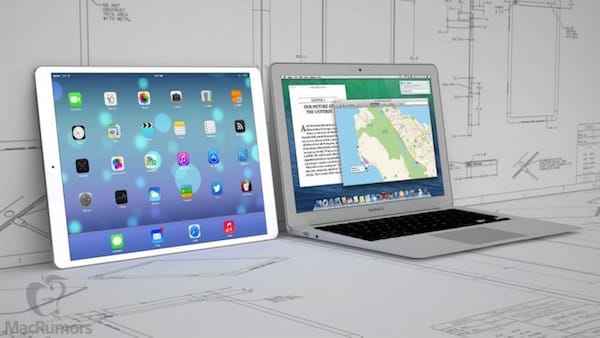 As fall approaches, Apple's flagship lineup becomes the main topic of many tech focused blogs. The final months of each year are dedicated to updating popular iOS devices, iPad and iPhone. Apple confirmed on Thursday, August 27, the media event will be held on September 9.
Of the suspected announcements, including iOS 9, Watch OS 2, and iPhone 6s, the iPad details appear to receive most attention. Last year, iPad Air 2 launched, bringing with it a thinner form factor, enhanced processor and Touch ID support, while iPad mini 3 was a simple passing thought on the Keynote board. Current rumors peg the iPad lineup with fanfare, claiming that a much larger 12.9″ iPad "Pro" is on the way this fall.
The iPad Pro is likely to adopt a majority of its features from the existing iPad Air 2. With a thin design and Touch ID, iPad Pro will function similarly as well. A faster, stronger processor is expected, simply as a result of an annual evolution, but it could be used to provide speedier side-by-side apps, as highlighted by iOS 9's new feature set.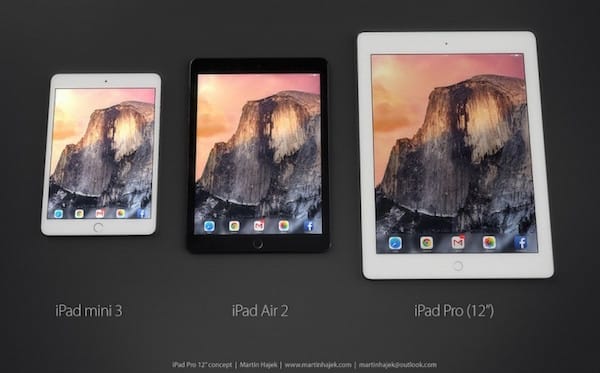 The larger screen is said to top out around 12.9″. According to code found in the iOS 9 beta releases, the software keyboard on iPad will be able to upscale for the first time and analytic details show a potential resolution of 2732 x 2048 at 264 pixels per inch. Additionally, The Wall Street Journal, often a non-official, yet extremely accurate source, maintains the rumor by hypothesizing a 12.9″ display.
iPad Pro is estimated to include NFC, presumably to work in some capacity with Apple Pay, perhaps as a terminal to accept payments from iPhone and Apple Watch enabled Apple Pay NFC chips. This could potentially cut out competing services like popularly adopted Square terminals.
Another oft confirmed rumor source, KGI Securities analyst, Ming-Chi Kuo, believes the laptop sized device may ship with or optionally include a stylus accessory, which would rival other industry related devices like Microsoft's Surface. More recently, Kuo "confirms Force Touch" for the iPad Pro. Adding a Force Touch-enabled stylus can increase input options and provide better precision than tactile input.
Potentially targeting industry clientele, early rumors have the new device including a USB 3.0 port, which would be a first for any iOS device, but early case knock-offs show an unidentified side port. If a port were to be included, it would more likely be a USB-C port, similar to Apple's newest MacBook, which famously only includes a single in/output through the same port.
A release date is currently unknown, specifically because the device is yet to be announced. Typically, September events are for iPhones, but rumors continue to expect both iPhone and iPad to be unveiled at the early fall event in the next couple weeks. Previous trends would have the devices released within the same month. However, when new flagship options become available, it can take Apple a significant period of time before a release, for example Apple Watch.
If iPad Pro is announced and released, expect the price point to hike a minimum of $100 more than similarly sized capacity iPad Air 2's.
[source: macrumors.com]