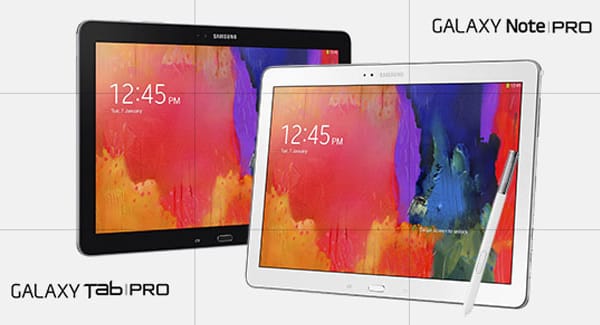 The Galaxy Note Pro and Tab Pro are both large-screened tablets with PC-like features.
First off, what's the difference? Both feature a large 12.2-inch screen at 2560×1600 pixels, 2.3GHz quad-core processor, 3GB RAM, 32GB or 64GB internal memory, microSD card slot, Android 4.4 (KitKat) and an 8MP camera.
Both are well-suited for business use and come with free subscriptions to various services including Bitasca, Cisco WebEx Meetings, Dropbox, Evernote, LinkedIn, NY Times, Remote PC, and others. The major difference is that the Note Pro 12.2 support S-Pen.
At such a large size, the Note Pro 12.2 and Tab Pro 12.2 are nearly the size of a compact laptop. One new feature is Remote PC, which allows you to remotely access your PC or Mac. Users of the feature have said it isn't perfect, particularly because the keyboard takes up such a large portion of the tablet's screen and blocks view of forms or boxes you may be typing in, but nonetheless, it is an exciting new feature.
If you're looking to buy either of these tablets, Amazon recently discounted the Tab Pro and Note Pro lines of Galaxy tablets by $50 to $100.
Tab Pro 12.2 and Note Pro 12.2 Holders
Given the large similarities between these two tablets, and the fact that their dimensions are exactly the same, the same holders will work with either tablet. We have both charging and locking holders available:
Holder with tilt swivel
Holder with tilt swivel and spring lock
Holder with tilt swivel and key lock
Charging holder with cigarette lighter adapter
Charging holder with USB cigarette lighter adapter
Charging holder with straight power cord

Shop Galaxy Note Pro 12.2 Holders