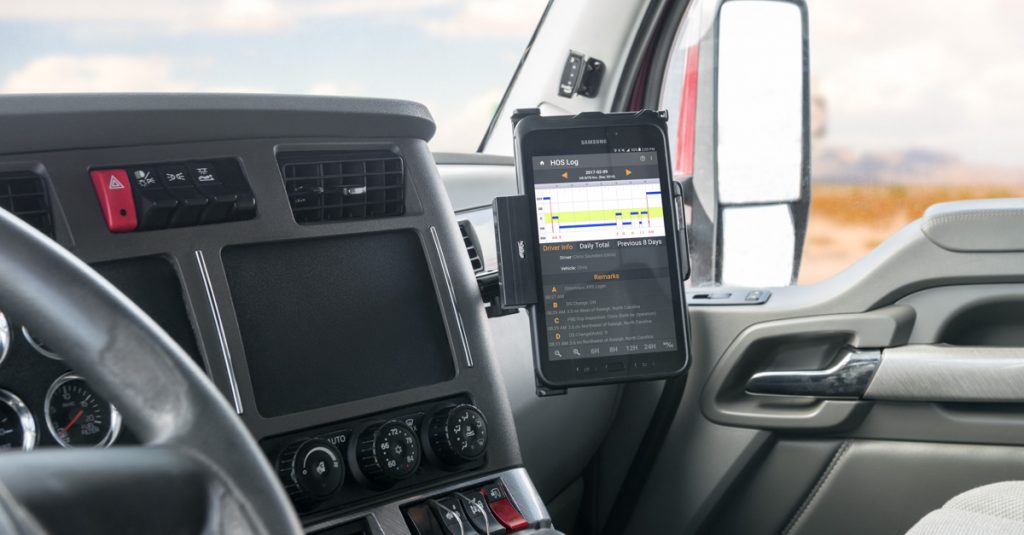 Did you know that you may be required to use a mounting system for tracking hours of service for your fleet? As a fleet manager or carrier owner, you are expected to know when and where you are required to use a mounting system to hold your electronic logging device. This involves staying safe as a driver and complying with federal regulations. Learn more about when you will need to use a mounting device to stay safe when using an ELD for your trucking fleet.
About the ELD Mounting Requirement
The Federal Motor Carrier Safety Administration (FMCSA) requires commercial drivers to have a mounting mechanism in the following instances. If you have a portable ELD, such as a Samsung Galaxy S10 or Note S10 for your ELD, then you must mount it properly. This includes putting the ELD in a fixed position that is visible when you are driving. Be in compliance with the FMCSA requirement for your portable ELD with a mounting device by ProClip USA.
Protect Against Flying ELDs
Eliminate the chance that non-secured ELD tablets will become flying objects in your truck cabs. The last thing you need is for a driver to lose an eye due to an unsafe ELD. A mounting system secures the tablet so it does not slide underneath your seat or feet. A mounting system also ensures your tablet screen will be safe from bumps and scratches that could happen if left unprotected in your truck.
Ease of Accessibility
When you have your ELD dashboard up front and center in front of your drivers on their mounted tablet, this makes it convenient to view and read the screen. Any information is easily accessible, which ensures the safety of the driver. Along with meeting that FMCSA ELD mounting requirement, you also protect the ability of your drivers to perform their job duties safely thanks to a hands-free setup.
Choose an ELD Mounting System Today
We make our custom-designed, hand-tooled mounting devices in Sweden. Only using the highest quality materials for ultra strength and durability enables our team to custom-fit mounting products for any ELD tablet and truck dashboard. Contact ProClip USA today at enterprisesales@proclipusa.com to request a product catalog for a quality ELD mounting system to keep your trucking fleet safe.