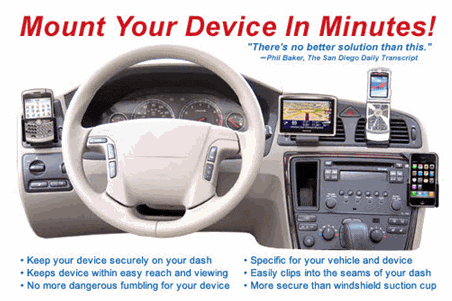 ProClip USA vehicle dashboard mounts for the released 2009 and 2010 vehicle models. Over the last few weeks we have released many new ProClip USA mounts. As always we make 2-3 mounts for each vehicle so a number of devices can be kept easily and securely on the dash.
Some of the vehicle dashboard mounts for 2009 and 2010 already available on our web site are:
2010 Lexus RX 350
2010 Honda Insight
2010 Dodge Ram 2500/3500
2009 Chevrolet Cruze
2009 Dodge Ram 1500
2009 Ford F-150
2009 Ford E-series / Econoline / Cargo Van
2009 Honda Fit
2009 Honda Jazz
2009 Honda Pilot
2009 Jeep Compass
2009 Patriot
2009 Kia Borrego
2009 Lexus LX 570
2009 Mazda RX-8
2009 Nissan 370Z
2009 Nissan Frontier
2009 Peugeot 308
2009 Renault Megane
2009 Suzuki Alto
2009 Toyota Venza
2009 Toyota Verso
2009 Volvo XC60
The ProClip USA vehicle dashboard mount is the only vehicle specific, consumer installable mounting bracket in today's global market. The mount clips into the dashboard seams, providing a very sturdy and tight fit. Average installation time is 2 minutes. No dismantling of the dashboard is required and there is no damage to the vehicle's interior!
The ProClip products (mounts, holders, cradles and docs) are designed so that the consumer can mount their own electronic devices to a variety of locations in virtually any vehicle. Products include: Mobile Phones, Smart Phones, PDAs, MP3 players, GPS navigation systems, Satellite Radios, Two-way Radios and Mobile Computers. They provide customers with convenient, secure, easy-to-install mounting solutions that create a safer and more enjoyable driving experience.