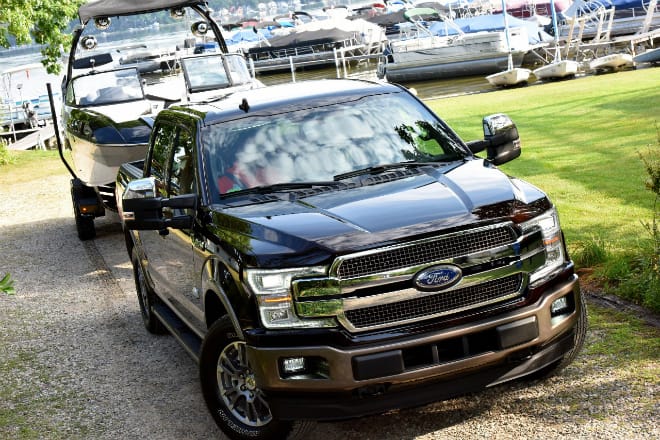 There are few things that cause more anxiety than having a long line of boats at the boat launch while you take your sixth attempt at backing your new trailer up in a straight line. Learning to back up a trailer is not a quick process. It takes a lot of time and practice, but eventually you can be an expert. But what if you could skip the "practice makes perfect" cliché?
Ford boasts a feature that will eliminate that anxiety and help anyone back up a trailer like a pro. If you can turn a doorknob, Ford F-150's Pro Trailer Backup Assist will take care of the rest!
How Does this F-150 Feature Work?
All you'll need to get started is Ford's official black and white sticker, a tape measure, and pen and paper. You begin by placing the sticker on the tongue of the trailer. Then you'll measure four specific distances, like the distance from the hitch to the center of the trailer axle and input those measurements into the truck.
Once you have placed the sticker and entered the measurements into your truck, you'll need to briefly calibrate the system to make sure the backup camera can locate the sticker. Once all this information is entered, you can save the trailer information, and your truck can remember up to 10 different trailers.
From there, shift your truck into reverse, press the Trailer Backup button, take your hands off the steering wheel and use the knob on the dash to direct your trailer. You still control the accelerator and the brakes, but the truck does the hard part for you! It is important that you use your side mirrors to stay aware of surroundings.
Make sure to dock your phone in a safe place when backing up. ProClip USA offers an extra strength mounting platform so you won't be fumbling with your mobile devices. Your F-150 is built to last, so why shouldn't your phone mounting solution?
Learn more about Pro Trailer Backup Assist in the video below: