ProClip USA Partners with Scosche
ProClip USA is proud to announce a partnership with Scosche to provide award-winning magnetic mounting options for customers. Magnetic mounting solutions provide an excellent universal mounting solution for someone with multiple devices, changes phones more frequently, or love the simplicity and ease of a magnetic phone mount. ProClip USA will now offer three magnetic mounts from Scosche: The MagicMount Pro Dash, MagicMount Pro XL and the MagicMount Pro Charge. The MagicMount Pro Charge is the first wireless charging solution available for ProClip vehicle mounts, delivering up to 10W of Qi Certified wireless charging power and is fast-charging compatible for both Apple and Samsung phones.
ProClip Custom Vehicle Mounts
ProClip USA vehicle mounts are custom fit for your exact make, model and year of vehicle. The vehicle mount easily snaps into the seams of your dashboard and grips the dash panels providing a solid and secure fit. Some vehicles have multiple mounting locations available, from a heavy-duty dashboard mount for a Ford F-150 to an a-pillar mount on a Subaru WRX that's ideal for mounting tuning accessories like the Cobb Tuning Accessport. With no drilling or professional assembly required, anyone can easily install a ProClip vehicle mount to provide a sturdy mounting platform for any device holder. Get started finding the vehicle mount for your car or truck and let us know if you have any questions!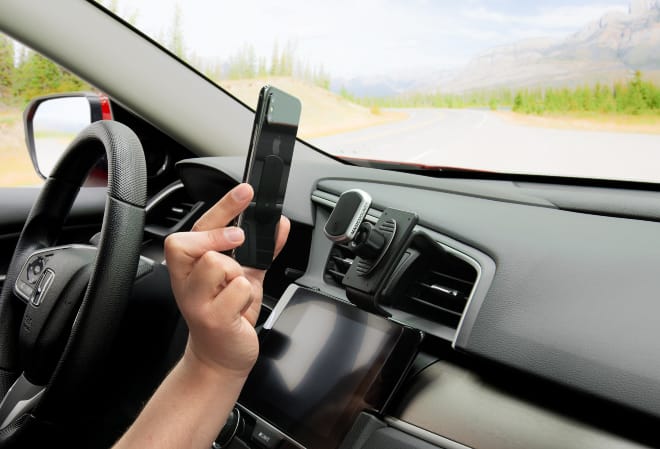 Universal Device Holders from Scosche
Scosche MagicMount is an award-winning universal mounting system for conveniently mounting smartphones, tablets and other devices in your vehicle. Install your ProClip USA vehicle mount to your vehicle before attaching the Scosche Magic Mount to the ProClip USA vehicle mount. Install the MagicPlate shim directly to your device, directly to your case, or between your case and phone. Once the MagicPlate is in place and your MagicMount is attached to the ProClip USA vehicle mount, you are able to mount your device for safer hands-free calling, GPS navigation, streaming music and more.