We're attending HIMSS, an annual healthcare and IT conference held in Orlando, Florida this week. Here is Steve and Johan at our booth.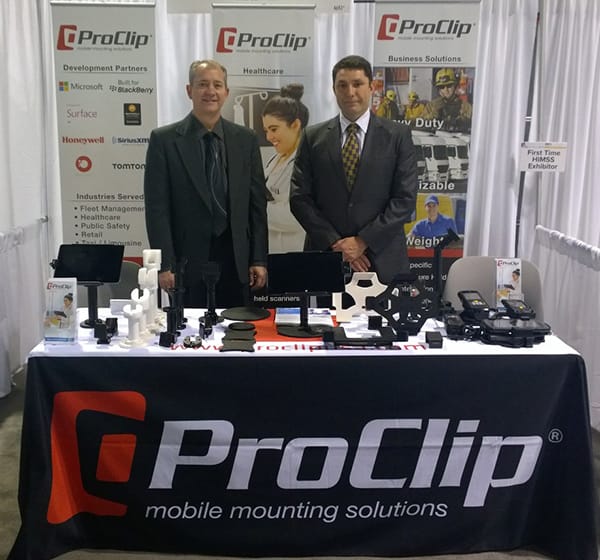 About HIMSS
HIMSS (Healthcare Information and Management Systems Society) is a global, non-profit organization focused on improving healthcare through information technology. HIMSS14 is this year's annual event in which thousands of IT professionals, clinicians and healthcare executives from around the world gather to discuss the future of health IT.
We're exhibiting at the event in booth 4692. We will be showing our device mounts for hospital and clinic staff, which includes MultiStand tablet holders, tabletop stands and custom pedestal mounts.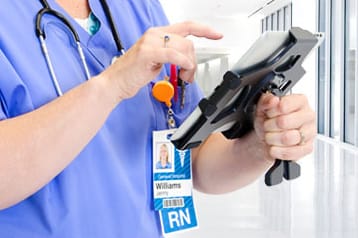 ProClip MultiStand for Tablets
The MultiStand makes it easy to carry a tablet with one hand, prop it on a table, hook it over the knees or mount it to a wall. All of these uses make the MultiStand ideal for a healthcare setting and are often used by doctors, nurses, health technicians and other hospital staff. This is especially the case as mobile technology changes healthcare and more clinics use tablets in their everyday care.
Microsoft Surface Mounting Solutions
We make custom holders for many different tablet brands and models, often working with the manufacturer if they have specific requirements. We worked together with Microsoft to create a custom mounting solution for their Surface line of tablets. These are part of Microsoft's "Designed for Surface" program and will be displayed at our and Microsoft's booths at the HIMSS conference.
Check out our customer mounting solutions for Surface featured in this video.