We have recently helped Green Cab of Madison outfit its fleet of taxis with our new line of ProClip Pedestal Mounts.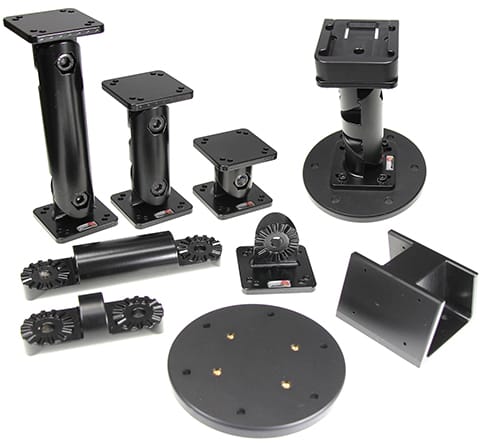 Green Cab of Madison
Green Cab of Madison is a modern and innovative cab company located in Madison, WI. Their entire fleet consists of 2010 or newer Toyota Prius. The taxis are all equipped with an iPad mounted to the dashboard which syncs with their dispatch software and eliminates the need for loud two-way radios. The iPads also conveniently provide a nice large screen for navigation. Some Green Cabs even feature iPads mounted to the headrests and provide entertainment for backseat passengers.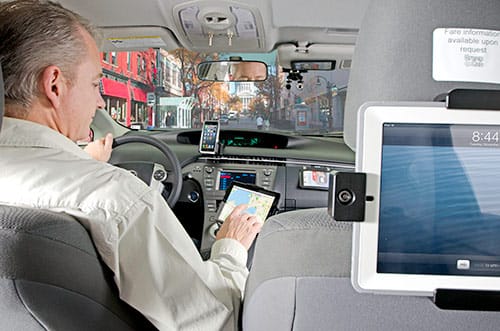 ProClip Mounting Solutions Used in Green Cabs
Last spring we wrote about our iPad dashboard mounts and Green Cab. In order to provide the setup explained above, Green Cab added ProClip tablet holders and crash-tested tablet headrest mounts to its fleet of vehicles. The ProClip mounting solutions help Green Cab maintain their innovative image and stand out from other well-established cab companies in the Madison area.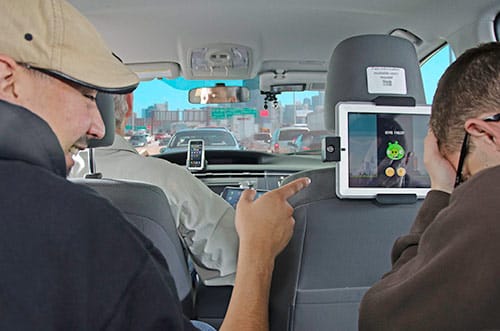 Pedestal Mounts Added to the Green Cab Mounting Setup
We just released a new line of heavy-duty Pedestal Mounts that were perfect for Green Cab. These mounts are intended for heavier devices that require a stable and strong installation. The Pedestal Mounts provide an extra sturdy mounting platform for attaching device holders for tablets, mobile computers, payment terminals, navigation units and more. These mounts come in a variety of sizes to accommodate many different vehicles and setups.
Green Cab has added ProClip Pedestal Mounts to its fleet of taxi cabs. The best part are the benefits that come from a two-part mounting solution like ours, consisting of a custom vehicle mount and device-specific holder. The two-part nature of the product will allow Green Cab to use their current iPad tablet holders with the new Pedestal Mounts!
Green Cab of Madison is a great company to work with and we are thrilled to have them as one of our first customers to implement the new pedestal line.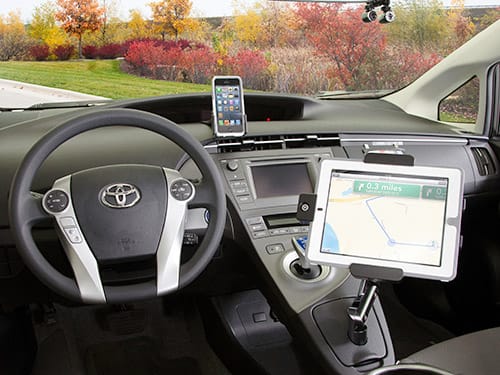 Pedestal Mounts Can Do So Much More
The versatility of our Pedestal Mounts does not stop at taxi cabs. The mounts are also designed for use in air crafts, boats, tractors, retail stores, kiosks, conference rooms and just about anywhere else you can think of that could use a ProClip mount. In addition to finding them in Green Cab of Madison taxis, this year you can find ProClip Pedestal Mounts across the country in limousines, delivery vans and trucks, fleet vehicles, transportation semi-trucks, garbage trucks, utility trucks and public safety vehicles.