We Have More New Products!
Have you been looking for a car mount for your phone? We've been rolling out new products lately and our shelves are freshly stocked with a few more under the HTC column: The HTC One X and the HTC One V.
HTC One X
We have a holder with tilt swivel for the HTC One X. This holder is custom fit to your device so your One X will fit exactly how it should, snug and safely in place. Don't worry, this doesn't mean you're limited. The tilt swivel gives you easy access to the phone from all angles in your vehicle. It can tilt 20 degrees in any direction and swivel 360 degrees.
This current model is not compatible with the AT&T version of the phone, since AT&T decided to make theirs slightly taller and heavier than the global version (how tricky of them!). Yes, we know that in the U.S., the One X is currently only available on the AT&T network. Don't fret! We are working hard and have some testing to do in order to release a holder for the AT&T version. We'll be sure to let you know as soon as it's ready for purchase.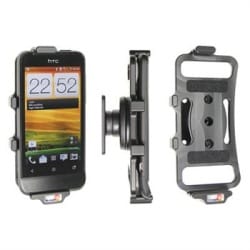 HTC One V
We have three different device holders for the HTC One V. For those of you looking for something simple and straightforward, try the tilt swivel holder. This will give you the same great, all-angles access as the One X holder.
If you're a heavy phone user (and let's face it, who isn't these days?), you're probably more interested in keeping your phone charged. We have two options to consider that charge your phone while keeping it secure. A cigarette lighter adapter option keeps a cable permanently attached to your holder to create a dock type connection. Are you concerned about keeping your car looking great by avoiding clutter? The charging holder with straight power cord for fixed installation is a great solution to avoid cables over your dashboard but still keep your device charged and ready for whatever the day brings.
Stay Tuned For More
We are constantly working to develop new holders and mounts for the latest phones and car models. Stay connected and subscribe to our blog to make sure you don't miss any new updates. Prefer to connect with social media? Like us on Facebook or follow @proclipusa on Twitter.