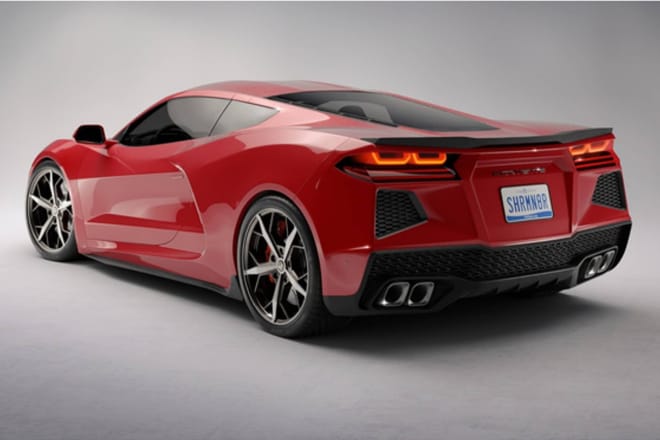 Mid-Engine Corvette
The C8 Corvette has a lot of speculation surrounding it, and news resources are starting to talk. The mid-engine Corvette has been in the works for a while, and it's expected to take the industry by storm. When it finally hits the market, sometime in 2020, it likely won't replace the C7. Instead, it'll exist as the brand's beacon for change—similar to how GM's crossover rival, the Ford GT, has done.
Let's Get the Scoop
As the C8 gets closer to launch, drivers can expect to see three engine possibilities. The bi-turbocharged 4.2-liter V8, which is notedly different from the 550-horsepower engine seen in the Cadillac CT6 V-Sport, is expected to make an appearance—boasting 650 hp. We may also see a bi-turbo 5.5-liter engine, hitting 850 horsepower. These days, there are even rumors of a 6.2-liter LT1 engine.
On the outside, the mid-engine Corvette will be released with a short, sloping nose. It'll also have a tall, wide rear and a quad-exhaust style. It'll hang onto the brand's iconic sports car design, bringing brand into the next age with style. The supercar is expected to be accessible in 2019, enhancing the current Corvette line—rather than directly replacing it.
Years of Development
The mid-engine Corvette has been designed for years. As it stands, the 2019 debut and 2020 C8 model will offer a number of new options for drivers. Upon release, we can expect three powerplants—as well as a battery-electric version, or even a plug-in hybrid model. GM isn't known to skip extra roads of opportunity, so the electrified route is certainly a road worth considering.
The mid-sized Corvette may even give other sports cars a run for their money, due to its potential engine type. It's been spotted on the track outside Cadillac, Michigan. While this location isn't the company's "big-time proving grounds," it's still noted for pre-debut testing.
Interior Entertainment Options
The C8's interior is expected to have a high degree of entertainment functionality—especially if GM is going the electrified route. In fact, it's likely the current ProClip 2018 Corvette mount will be usable in the C8. Already usable on the 2019 dashboard, the mount is a must-have for any driver intending to take full advantage of the mid-engine Corvette's full potential.