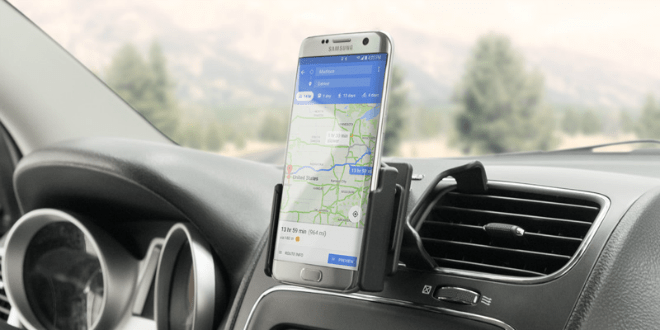 The popularity of rideshare companies has grown over the last several years, and for many people, this is the number one option when finding a ride. Riders like this option because of the simplicity of taking out their phone and requesting a ride through an app. As a rideshare driver, you can choose when you want to work, use your own car, and make extra money on the side or drive full-time. However, having hands-free access to directions and your phone is key to a driver's success.
Safety First While Driving with Lyft
When people take a ride with you through Lyft, they trust you to not only take them to the correct destination, but to take them there safely. If you are looking down at your lap for directions or driving one-handed while holding your phone, your passengers may be uneasy.
"When I started my Lyft rideshare business, my first paying customer left me a bad review because my phone was on my lap. I was determined to not receive any more bad reviews and wanted to solve the problem immediately. I ordered my custom ProClip phone mounting solution and have not received a bad review since!"
Franz H. – Los Angeles, California
ProClip car phone mounts help you to be a safer driver and decrease distracted driving. Using a mount allows you to more easily and more safely access GPS navigation, music, and see upcoming rides in the app. This will not only make your passengers feel safe, but it will make the trip easier for you as well. When passengers feel safe and enjoy their ride, your ratings will increase and help you earn more rides. Driver safety is taken seriously at Lyft, and it is also a top priority at ProClip USA.
ProClip Phone Mounts for Lyft Drivers: A High-Quality Product
The phone mount will be used on every ride, so quality is important. There are several low-cost, spring-loaded options available, but the quality is reflected in the price. Suction cup mounts are another option, but low-quality mounts will slide off or become unsteady if the suction cup isn't strong enough. Also, suction cup windshield mounts are illegal in some states.
ProClip USA products are made of durable, high-grade ABS plastic, making them extremely sturdy and long lasting. You won't find cheap injection molding in any of our products.
The ProClip mounting solution consists of two custom parts; the vehicle mounting base and the device holder. Our mounting base is custom fit to your vehicle make, model and year. No drilling is necessary in installing the vehicle mount, as it easily snaps into the seams of the dashboard. Our device holders are made specifically to your exact device, whether a smartphone, GPS navigation system, tablet or other mobile devices. We offer standard, adjustable and charging holders.
To keep you and your passengers safe while driving, find your ProClip mount today!