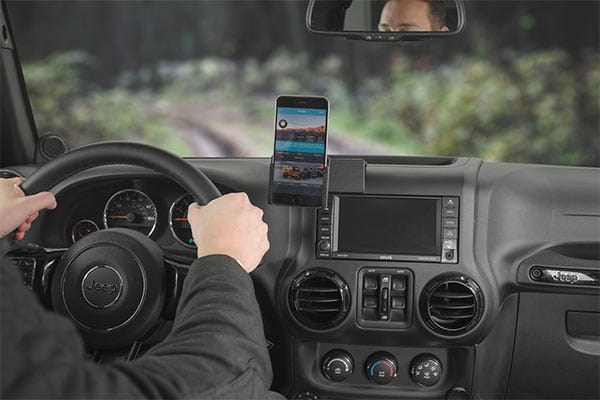 The Jeep Wrangler played an important part in American history. It was created out of necessity for the U.S. Military during WWII, but it has remained an American favorite by continuing to maintain its status as a high-quality, recreational vehicle. Whether you've been a loyal Jeep fan for life or you are considering purchasing one, the Jeep Wrangler is a quality vehicle with an iconic design, superior engineering and patriotic tradition.
A vehicle with as much status and tradition as the Jeep Wrangler deserves to have the best accessories. We pride ourselves in providing the best phone holders and mounts on the market. Our custom dashboard phone holders and mounts will keep your phone in a very convenient, yet safe and visible place. Using a phone mount provides you the ability to have easy and safe access to your phone for things like using your GPS or other useful apps you might not be able to access through your dashboard.
Perhaps you have a manual transmission Jeep Wrangler? Our mounts provide drivers with a great hands-free phone mounting solution.
A ProClip dashboard mount will keep you safe by encouraging you to keep both hands on the wheel and your eyes on the road. But don't just take our word for it. In a recent survey, 86% of our customers said they feel like a safer driver when using their ProClip mount.
Jeep Wrangler Dashboard Phone Mounts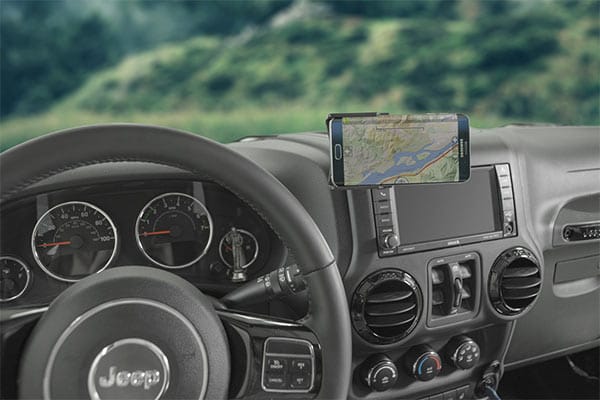 We offer a large selection of customized phone mounts that were designed to fit your Jeep's dashboard perfectly, while also blending in and appearing as if it was actually part of the interior! It's easy to install our dashboard mounts with the instructions provided. The mount simply snaps into the seams of the dashboard for a tight fit. This extremely sturdy hold keeps your phone safe and in place, even if you decide to take your Jeep on an off-road adventure!
We are currently offering Jeep Wrangler dashboard phone mounts for models from 1997 to 2017!
Custom and Universal Phone Holders
After you've selected the correct dashboard mount for your Jeep Wrangler, the next step requires you to pick a phone holder. We provide custom phone holders designed to fit your device. Whether you're an Android or Apple fan, we have a holder specific to your smartphone. We also offer a large variety of universal phone holders. These holders are great if you have a case on your phone or if you have multiple people with different phones using the same holder and mount solution.
Both of our custom and universal holders come in a variety of charging and non-charging options. Each phone holder features tilt swivel, allowing you to tilt your phone 20 degrees in any direction and swivel 360 degrees between portrait and landscape modes.