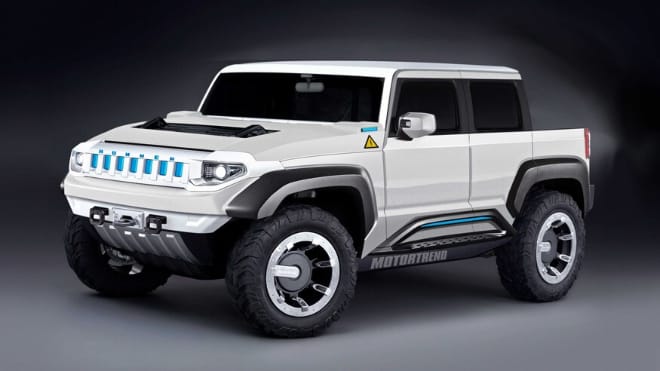 Update September 14, 2020
After initially planning for a May 20, 2020 reveal of the Electric GMC Hummer, General Motors has now announced a new date to reveal the truck on October 20, 2020. With the announcement GMC also confirmed 'crab mode' which will allow the truck to move diagonally with the truck's four-wheel steering capabilities. Stay tuned for more updates and rumors as the release of the Electric Hummer gets closer.
Originally Published Jan. 15, 2020
Move over, Cybertruck. Multiple reports have surfaced that General Motors will be reviving the Hummer name with an electric pickup truck. The move comes after the brand was shut down in 2010 among bankruptcy and sky-high gas prices. The history of the Hummer brand should bring back memories of a rugged and durable, yet luxurious vehicle. General Motors hopes to revive those traits while shedding the Hummer's former image as a gas-guzzler
Hummer Super Bowl Ad
The new electric Hummer is expected to make a big debut during the 2020 Super Bowl and has apparently hired NBA superstar LeBron James as the official spokesperson. Reports say that General Motors has a blockbuster marketing plan in place with firm timelines for the truck's release to the public.
Fully Electric GMC Hummer
Instead of reviving Hummer as an entirely separate brand, General Motors reportedly plans to sell the truck through the GMC brand. GMC is known as a premium truck brand and is an ideal spot for a new premium electric truck. The Hummer is expected to be manufactured GM's Detroit-Hamtramck facility, which is currently under a major renovation. Wall Street Journal estimated that the Hummer could arrive as soon as 2022 – just in time to compete with Tesla's Cybertruck.
Are you excited for the return of the Hummer? Stay tuned for more information after the Super Bowl. As always, once the new electric Hummer is released, we will get to work on creating a custom vehicle mount. In the meantime, get your current vehicle equipped with a durable phone mount that doesn't take up a cupholder in your car.