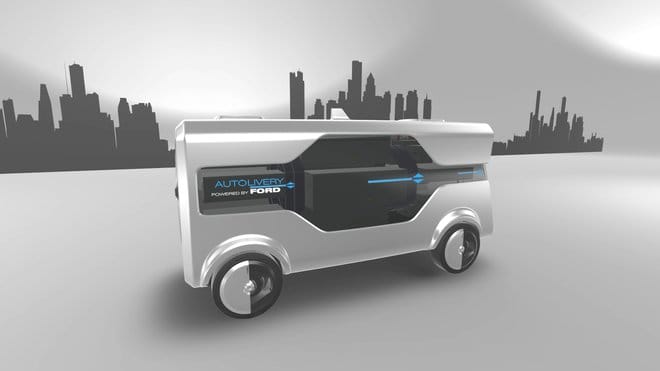 (Image via Ford)
In the world of Ford, self-driving vehicles just became more inclusive. Its all-new "Autolivery" van roll-out is coming, and it's based upon Ford's successful "last mile mobility" employee challenge. The Autolivery concept matches all-electric, self-driving car ideologies with autonomous drone technology—transporting delivery packages to customer doorsteps.
Down to the Logistics
Ford's Autolivery van, again, is still in the planning phase. Technically, it's less "real" than the Mercedes' auto-delivery concept and UPS's drone delivery debut. Currently, you can't access Ford's delivery services. You can, however, check it out in virtual reality. Autolivery is ready to be viewed in Barcelona's MWC, giving industry tycoons and idea crafters resources to play with.
The idea, itself, is bred from the industry's heavy focus on logistics. In fact, a lot of today's logistics providers are teaming up with different automakers, breeding similar self-driving delivery concepts. Ford's idea is certainly interesting, but regulations may still stand in the way. Before self-driving trucks are allowed to deliver your packages, they'll need to pass traffic regulation standards. From a technical perspective, autonomous delivery vehicles may require a little more tinkering before they're fully implemented.
What's to Come?
There's a high likelihood of industry overhauls and regulation changes, for one. Self-driving trucks may indeed be able to circumnavigate the typical stop-gaps preventing self-driving vehicles entry into the greater traffic world. Self-driving vehicles, too, won't need to "give up" on attempted deliveries when a shift is about to end. Because they're not powered by employees, they're incredibly capable product movers.
As it stands, Ford is keen on installing multiple self-driving vehicle fleets before 2021. While regulations are still up for consideration, Ford has seemingly done the paperwork required to organize large-scale transit. As for the drone aspect—consumers needn't worry. Large-scale drone travel isn't necessarily difficult to implement, and Ford will likely manage it from a position of administrative perfection.