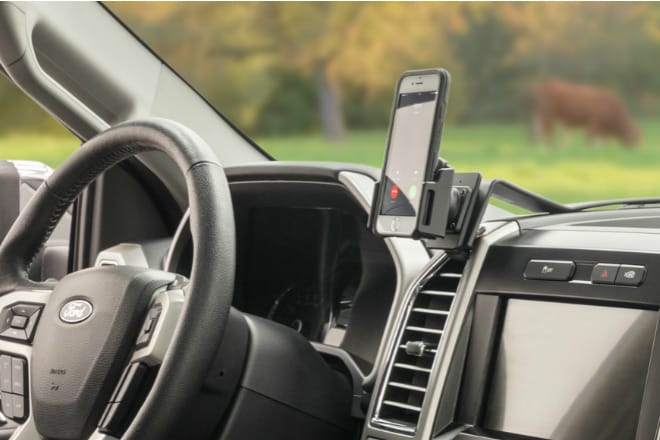 The Ford F-Series pickup line has been a best seller in America for 35 years in a row. Truck enthusiasts love their vehicles for many things including the ability to tow and haul large capacities with ease. Trucks have been proven to be rugged workhorses that can venture almost anywhere on and off the road. An annual top-seller for ProClip USA, the Ford F-150 center dashboard phone mount offers an extra-strength mobile phone mounting platform fully capable of handling the roughest terrains.
Ford F-150 Center Mount
Attaching your ProClip (2015-2018) Extra Strength Center Mount (no. 855093) to your Ford F-150 dashboard is easy. Follow the brief packaging instructions included with the mount or use the steps below:
Step 1: Remove the covering off of the double sided tape for a secure dashboard fit. (Note: If you decide to remove the mount at a later date, the tape residue will not stick to your dashboard.)
Step 2: On the forward facing side of the ProClip there is a J-shaped angled edge that will hook into the seam near the defroster closest to the windshield. After you hook in the top part of the mount, line up the rest of the mount with the contour of the dash.
Step 3: On the cabin side of the ProClip there is a rugged L-shaped angled edge with a mountable attachment. Put your fingers behind the face plate and flex it towards you. Slide the L-shaped angled edge into the top side of the vent opening. (Note: This mount will not damage the vent or render it inoperable.)
You now have a solid mounting platform for any one of our mobile device holders to attach to the face plate of the vehicle dashboard mount.
Video: Installing ProClip Ford F-150 Center Mount
Please view the following video for a detailed, easy-to-follow instructional demonstration.
For more information about ProClip's Ford F-150 dashboard mounts, visit our website today!