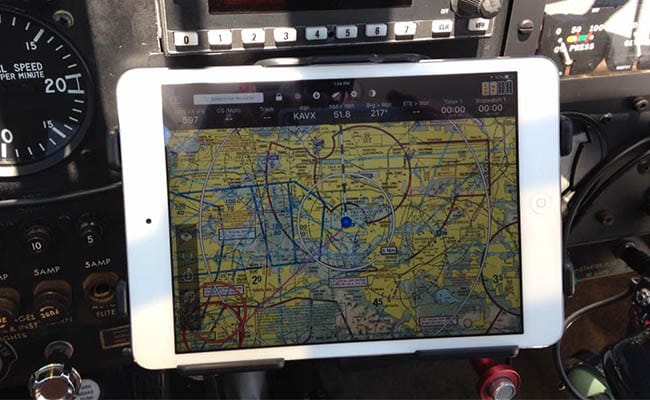 We can't believe that 2016 is over! This year flew by for us – and all thanks to our great customers for keeping us so busy. The end of 2016 means it's also the end of December. As with the end of every month, we've put together our top customer reviews and social shoutouts to share with you. If you aren't familiar with ProClip mounting solutions, take a few minutes to check out what our customers had to say about our car phone mounts.
Customer Reviews and Social Shoutouts!
We love it when our customers share photos of their ProClip products. Thanks, @b_jmills, for sharing your photos on Instagram.
He wrote, "Finally after months of not having a cup holder large enough and having to put my phone in the side door bin, I have installed a more suitable alternative suggested by @hurts217."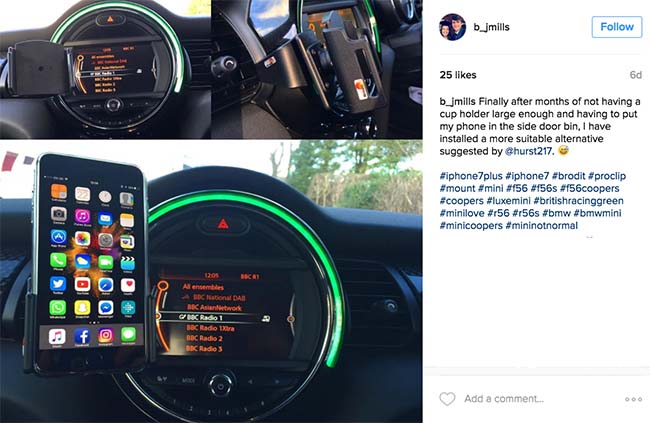 We have to give some love to our fans on Twitter, too. Thanks, Michael for the shoutout and the photo.
He wrote, "Best phone holder for in the car! Customized to best fit your car and phone!"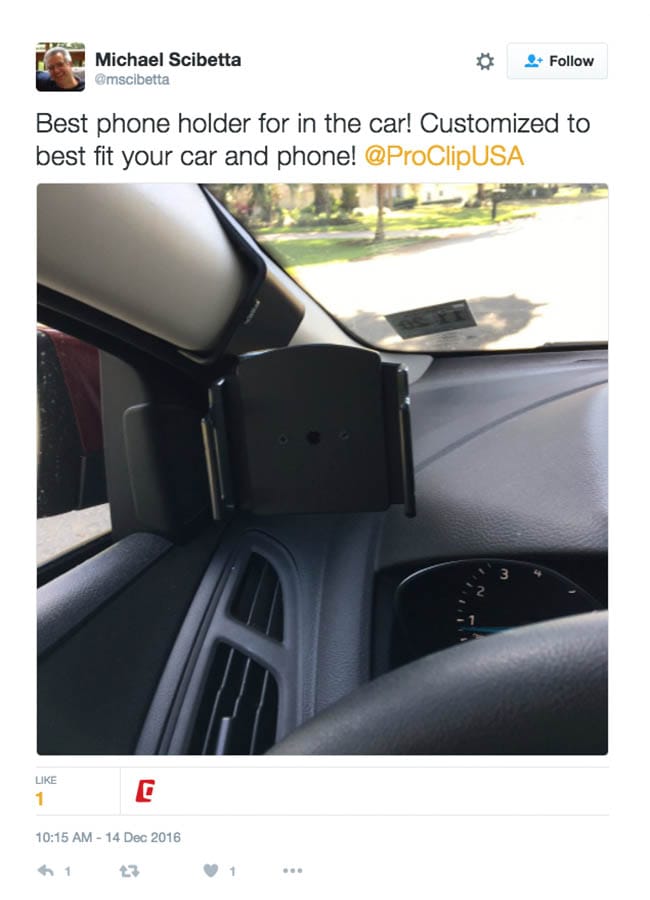 It especially warms our hearts to see our fans recommending our products! Big thanks to JP and Michael for recommending us to a friend.
Michael wrote, "@KAL79 @DocThompsonShow if looking for a good vehicle mount, look at @ProClipUSA used them for 3 phones and 2 cars with no problems.
JP wrote, "@KAL79 great cell phone/tablet mounts to fit most devices in most cars @ProClipUSA."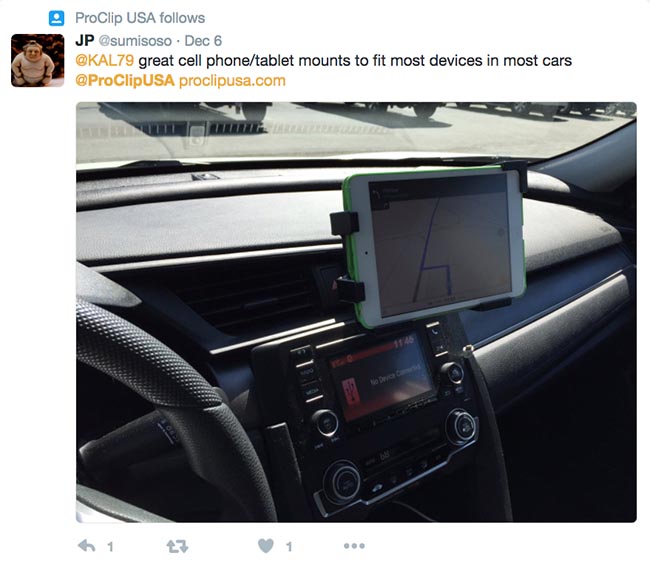 Did you know that we make mobile mounting solutions for aircraft? We sure do! We needed to give big thanks to Blake Pickering for sharing a review and pictures of his airplane tablet mount on our Facebook page. Check out what he had to say:
"The application for ProClip USA products was within the cockpit of my 1963 Piper Cherokee 180.
Since the original panel and gauge placement is older and somewhat outdated I rearranged my instruments to more user-friendly standard six-pack positions. In addition to the flight instruments I use an iPad (mini or iPad Air depending on the flight) and an iPhone 6s Plus, both running various aviation-related apps. My hope was to find a product or various products working together, that would provide stable and easily adjustable platforms to mount both for flights to improve and modernize VFR situational awareness and overall safety.
The standard mounts for all, including the snap-in locking mounts, have been the perfect addition to my panel.
The pivoting adjustable mechanism is so valuable in making minor adjustments to reduce sun glare. I must include these mounts are used in conjunction with a few RAM products, specifically for my iPhone, as well as Armourglas Anti-Glare Tempered Glass Screen Protectors.
The iPad mini and/or Air 2 mount seen below the radio stack is purely ProClip USA products with the exception of the fasteners/hardware purchased at my local Denault's hardware store.
ProdClip USA products are outstanding, the quality is excellent. I highly recommend them to any pilot looking for cockpit mounts that are sturdy, adjustable, clean design, and easy to install."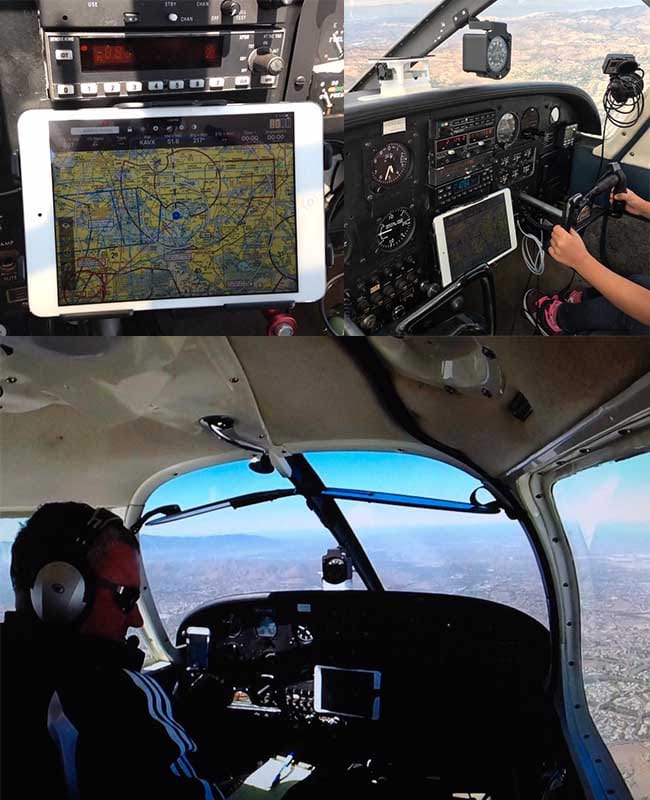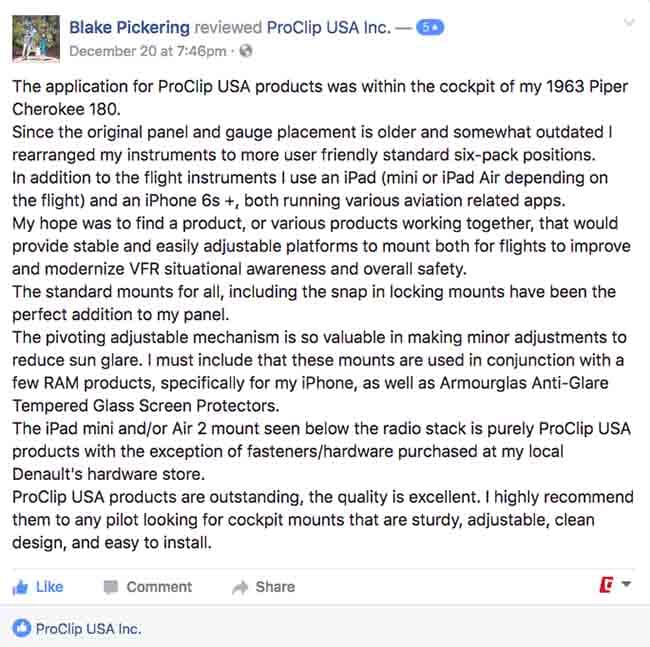 Do you have a review (good or bad) that you would like to share with us? We would love to hear from you. Feel free to reach out to us on any of our social channels or send us an email at customerservice@proclipusa.com.
Are you still interested in reading more reviews? Check out our monthly customer review archives!