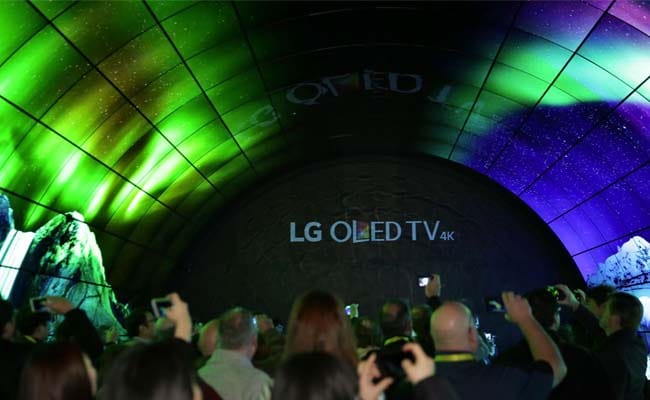 (Image via CNET)
CES 2017 saw an incredible number of new television technologies, all of which display similar trends: ultra-thin formats, brighter image quality, and superior sound systems. Now that most televisions have reached the peak of useful diagonal size and have obtained most smart technologies, manufacturers are focusing primarily on the quality of the display itself.
1. The New LG Signature
OLED

TV

It isn't the picture that's captivating on this new LG display — it's the size. At 2.57 mm thick, the LG Signature appears to be more a window than a television. At 76.7-inch the LG Signature OLED begs to be wall-mounted and has a form factor that is half as thick as many smartphones. Of course, it also comes at a premium cost: the product line is going to start at approximately $20,000.
2. The Panasonic 4K
OLED

TV

Panasonic isn't as thin as the LG or as bright as the Samsung, but that isn't the goal. At 4K high-definition and HDR capable, the device is nearly as thin as any of its competitors and has an incredibly high-quality image that is said to be twice as bright as a conventional OLED. This makes it one of the brightest — if not the brightest — OLED televisions available on the market.
3. The Samsung
QLED

TV

While everyone else is concentrating on OLED technology, Samsung's investing in QLED. QLED is designed to provide richer blacks, brighter whites, and better colors throughout the spectrum. Brightness is intended to be twice as high as 2016 models, capable of producing "100 percent color volume." Samsung is making a clear bid towards the best and highest resolution appearance.
4. The Sony
Bravia

A1E

OLED

TV

Though Sony can't compete with LG as far as thickness goes, it has an entirely different target in mind: sound. The Sony Bravia A1E is a speaker itself, with the entire panel producing the sound. Instead of being wall-mounted, the A1E comes with a picture-style stand, which houses most of the device's internal components. It also has a far more reasonable price point, starting at around $6,000.

ProClip USA was proud to be exhibiting at CES for the eleventh year in a row and witnessing these exciting new technologies firsthand. Follow us for more information about this year's event and the upcoming new technologies in televisions and more.